Patience Jonathan's Loyalists Storm Court Again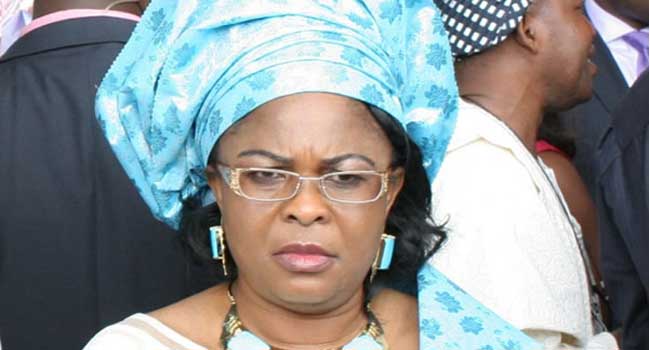 A crowd of women gathered again on Tuesday at the Federal High Court in Lagos to show their loyalty to the former first lady, Mrs Patience Jonathan.
Mrs Jonathan through her lawyer had made an oral application before Justice Mohammed Idris, seeking the restrain of another judge of the court, Justice Babs Kuewunmi, from taking any steps on a disputed sum of $15.5 million which she claims belongs to her.
Her lawyer, Ifedayo Adedipe, who moved the oral application, urged Justice Idris to stop Justice Kuewumi from making any order forfeiting the $15.5 million, which was frozen by the Economic and Financial Crimes Commission (EFCC), to the Federal Government until the determination of an interlocutory application filed by the former first lady.
At the resumed hearing of the matter on Tuesday, Justice Idris acknowledged a letter from the counsel representing Skye Bank, Lanre Ogunlesi, stating that he was indisposed and would not be available in court.
The judge said since Mr Ogunlesi requested for a new date to enable him appear in court, the hearing of Mrs Jonathan's application could not go on.
But before the court could adjourn the case, the former first lady's counsel urged the court to direct the EFCC not to tamper with the money, which is the subject matter of the case, pending the hearing and determination of the interlocutory application.
However, counsel to the EFCC, Rotimi Oyedepo, urged the court to dismiss the application, submitting that the accounts in which the money was kept had long been frozen by the commission while the identified directors to the companies had pleaded guilty to an offence of conspiracy and money laundering in an ongoing criminal trial before Justice Kuewumi.
The lawyer further argued that it would be "extremely" prejudicial to the orders made by Justice Kuewumi if the court goes ahead to hear Mrs Jonathan's application.
Justice Idris, in a short ruling, held that he would not go into the merits or demerits of the interlocutory application until it is moved and argued. He, however, ordered an accelerated hearing of the case.
The judge then adjourned the case till the December 7, for the hearing of the main application.
Mrs Jonathan is claiming the sum of $200 million against the EFCC, Skye Bank Plc, a former special assistant to former President Jonathan, Waripama-Owei Dudafa and four others for what she described as "the inconvenience and embarrassment she suffered as a result of the freezing of her accounts".
The former first lady also wants the court to issue an order discharging the freezing order it placed on the $15.5 million. She also wants an order restraining the EFCC and its agent from further placing a freezing order on the said accounts warehousing the sum.