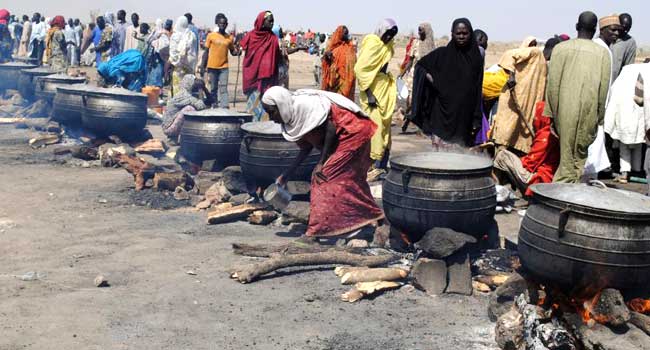 The National Logistics Committee on Internally Displaced Persons (IDPs), has donated seized bags of rice to the Borno state government, for onward distribution to victims of insurgency.
The exercise was carried out by the Nigerian Customs, as part of government's plan to cushion the effect of the insurgency on citizens.
The donation consisted of 11,517 bags of rice, seized and declared contraband by law.
The Assistant Comptroller General, Umar Sanusi, explaining the source of the donation said: "This rice did not come from heaven – actually these were seized at the border and any other place where there was infraction against the federal government.
"So these are products caught by the Nigerian Customs and condemned by the court of law and forfeited to the government for distribution to people affected by insurgency."
Mr Umar furthermore said that more items including clothing, should be expected in the coming weeks as the harmattan and yuletide approaches.
In his acceptance remarks, Borno State Governor, Kashim Shettima, explained that the state is overwhelmed by the alarming number of IDPs, especially those living in the host communities.
"IDP camps in Maiduguri consists only 158,000 people. In the satellite camps across the state in Pulka, Dikwa, Gamboru Ngala, Bama, Banki, Biu and Monguno the total number of people may not exceed 300,000.
"But within the host community here in Maiduguri we have over a million people on the verge of extinction.
"The food security challenge being faced by the IDPs living within the host community is more precarious than those living in camps.
"To me, they are the VIPs, at least they are getting two meals per day but those living in the host community are in far worse shape than we could imagine," Shettima stated.
He called for more support to make life easier for the displaced.