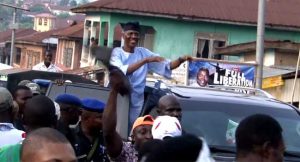 The Alliance for Democracy (AD) and the All Progressives Congress (APC) have held their final rally ahead of the Ondo state governorship election holding on Saturday.
The Alliance for Democracy flagbearer, Mr Olusola Oke was in Ondo town where he expressed his gratitude to party members and supporters for their steadfastness throughout the campaign period.
It was a grand entry for the Mr Oke into Ile-Oluji and Oke-Igbo area of Ondo state and the residents rolled out the drums in solidarity with the AD candidate.
However, what started out as a peaceful campaign came under an attack which led to the destruction of a vehicle.
"This is just one of the series of attacks on our members across the state. Only yesterday we were told some of our members were maimed in Owo.
"Security forces must wake up to their responsibilities because all it takes for evil to triumph is for good people to keep quiet.
"I am appealing to my people to remain (peaceful) but there is a limit to which they can listen to me. Someone must be there to call them to order," he said.
He also asked his supporters and other political parties to shun violence in the run-up to the poll.
For the candidate of the All Progressives Congress (APC), Rotimi Akeredolu, victory of his party at the poll come Saturday is assured.
He said this during the rally to wrap up his campaign at his home town in Owo Local Government Area of Ondo state.
The campaign train moved through several towns to get to Owo where thousands of supporters were on ground to receive their man.
The APC candidate, again, rolled out his plans for the people. He maintained that his policies would cater for not just the people of Owo but the entire Ondo state.
Other leaders of the party also expressed their confidence that Akeredolu would emerge victorious at the polls.