Northeast Nigeria Crisis: Ordeal Of 14m Impacted And 6m Needing Protection
Since 2011, the dire push by the Boko Haram terrorist group to establish an Islamic State and also put an end to Western education in northeast Nigeria has killed over 15,000 people and driven 2.4 million from their homes.
From attack on communities in the northeast to bomb attacks even in Nigeria's capital city, Abuja, the group showed their undeterred extremism that is now being quenched by heightened counter-terrorism operations in the region.
The operations have seen significant improvement since early 2015, few weeks to the nation's general elections, with the sacking of Boko Haram from most of the region's large towns. This development has revealed the devastating humanitarian emergency that has taken hold of the region.
According to the United Nations, 4.5 million people currently face acute food insecurity and hundreds of thousands of people remain inaccessible to relief efforts, talking about the humanitarian situation in the northeast. Access to the region has been hindered by operations of the military and remnants of the group within the area, the UNICEF had said.
The United Nations High Commissioner for Refugees and the United Nations Office for Humanitarian Affairs have raised alarm over the humanitarian situation in the northeast, after the military operations in the region.
Impacts of the ongoing insurgency attacks by Boko Haram on both lives and property in northeast states of Nigeria have left many in fear, displaced millions of people, while hundreds of thousands have lost their livelihoods and are facing serious starvation.
Internally Displaced Persons from the northeast, are taking shelter in several camps spread across the region.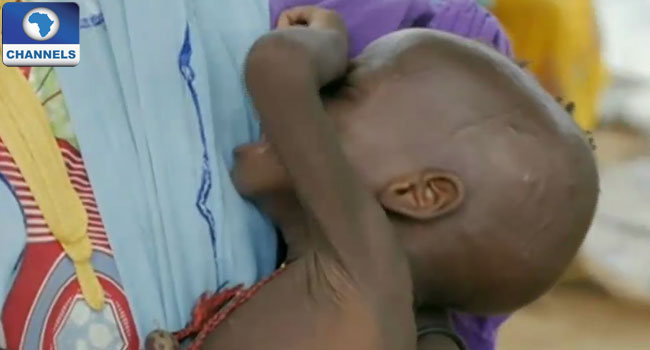 According to the United Nations office for the Coordination of Humanitarian Affairs, some 26 million people including more than one million children have been displaced by seven-year-old insurgency that has killed more than 15,000 people.
The UN agency added that 14 million people are in urgent need of assistance, of which 400,000 children were suffering from severe famine and malnutrition and 75,000 of them were likely to die in a few months if there no urgent intervention came.
UNOCHA Coordinator for Nigeria, Peter Lundeberg, warned that the dwindling in-flow of funds from donor partners may hamper humanitarian intervention in the region.
He says "14 million people are identified as being in need of humanitarian assistance.
"That means people living where the coping mechanisms are so depleted will need additional injection to survive their daily lives".
"That can be in different degrees. So, when I mentioned the 400,000 children, this is out of the 14 million example of the category, which is in the most critical phase bordering towards famine and death.
"But that means we need to put in preventive measure at an early stage. Before children, who are malnourished, children who are brought with malnourishment and will probably die from malaria or they will die from measles, or they will die from diarrhoea infection because of their low immune system. They may also die due to their nutrient insufficiency," he stated.
Economic crunch is presently a global phenomenon and Nigeria's economy is presently in recession.
But the people of these region require healthcare, protection, shelter, clean water, education, food and nutrition.
The United Nations' agency says about one billion dollar is required to cater for these needs from now till the end of 2017.
Peter added that "this year's appeal was now at $485 million, that's what we asked for. That is not what we got. We have received so far $180 million. So, the appeal is seriously underfunded".
Last month, President Muhammad Buhari set up a presidential committee to coordinate aid and the rebuilding of the northeast.
These internally displaced persons will be hoping that the committee swings into action to complement what international agencies are doing to salvage the situation in the northeast.