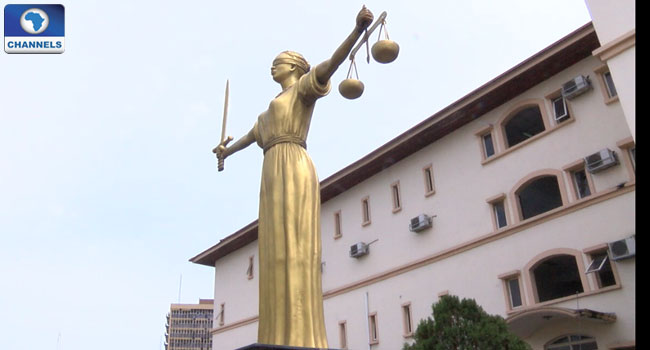 The Economic and Financial Crimes Commission (EFCC) has charged a Judge of the Federal High Court, Justice Rita Ofili-Ajumogobia and a Senior Advocate of Nigeria (SAN), Godwin Obla, with alleged bribery.
They were charged at a Lagos High Court in Ikeja, the city's capital, on a 30-count, five of which border on an alleged five million bribe given to the judge by the SAN.
According to the anti-graft agency, the alleged bribe was offered when the judge was presiding over one of Mr Obla's cases.
The remaining 25 charges are on the huge sums of money which passed through the accounts of the judge and her alleged inability to explain the source of the money which is more than her lawful income as a public official.
The defendants pleaded not guilty to all the charges and the defence team applied for their bail on self-recognisance or on liberal terms.
The EFCC has, however, contended that the defendants had tried to interfere with investigation and witnesses, urging the court to consider that in exercising its discretion on whether or not to grant bail
Channels Television's judiciary correspondent, Shola Soyele, who is covering the proceedings, reports that Justice Hakeem Oshodi has stepped down the case for now to consider his ruling on the bail applications.
The defendants are to deposit their travel passports with the Chief Registrar of the Lagos High Court within seven days otherwise the bail will be revoked. 
They are also to deposit 20 million Naira with the Chief Registrar of the Lagos High Court within seven days failing which the bail will be revoked.