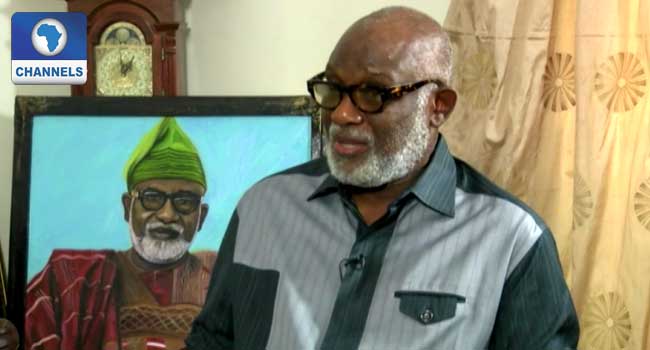 Ondo state governor-elect, Rotimi Akeredolu says his Ondo election victory was a manifestation of God's power and he would like to focus on this mandate rather than probe the past government.
Reacting to the conduct and outcome of the election in Akure on Monday, the APC candidate said that he was surprised by the margin of votes between him and his closest rivals.
The Independent National Electoral Commission (INEC), on Sunday, declared the APC candidate, winner of the 2016 Ondo state governorship election.
He polled 244, 842 votes to beat his closest rival, Eyitayo Jegede of the Peoples Democratic Party (PDP), who polled 150, 380 votes, while Mr Olusola Oke of the Alliance for Democracy (AD) followed with 126, 889 votes.
"What has happened in this election is quite beyond my personal expectations but then it is a case of saying we cannot limit God – I want to believe it is God-given victory to the people of Ondo state.
"What was beyond my imagination was the magnitude – the number of votes we scored vis-a-vis what two other contestants scored. I never believed that the margin would be that wide," Akeredolu said.
Therefore, on the issue of probing the state's accounts, the Governor-elect said that this is a venture he would not embark upon.
"I don't believe in probes. What I believe in is that I've been given a mandate to govern the state and when I come into office I will face the task.
"The past is the past and I am one person who believes that government is a continuum," he said.
Party Support
Mr Akeredolu went into the election without the support of some key members of the his party and this further made his victory a surprise for many.
He, however, maintained that the support of the party is more important than individuals' in an election.
"I believe that the party included everybody. So, the party gave us support and whether we like it or not, that will be larger than what an individual can give.
"If you have a national party behind you, it is larger than what any individual can give. So I believe that whatever individuals have done, they must have done through the party."
Industrialization
Mr Rotimi Akeredolu promised during his campaign to bring back the industries in the states and he provided an explanation of how he intends to achieve this.
"I used the word revamp when I was talking about the educational infrastructures and co, but when it comes to the issue of industries, I have argued during my campaign that people use the word wrongly.
"They say to us some industries are moribund (but) most of these industries are dead. So, its not easy to wake up a dead person and just like an industry, you cannot wake them up.
"The important thing is that industrialization is important to us and we are going to have to get as many people as are interested.
"We have the sand for glass industry in the south. It is not necessary we have to go back to Oluwa Industry, the furnace there is already old and the technology there is no longer in use.
"So all we need is to have people come. We will provide the enabling environment for them and they can start another one. It might be in the same premises.
"We have industry on ceramics in Ifon. We are thinking about what we have on cement and I know that in the next few weeks, many more will come."
He said that foreign investors have been approaching him to invest in the state even before the election and he was sure that with an enabling environment a lot of development would be achieved in Ondo state.