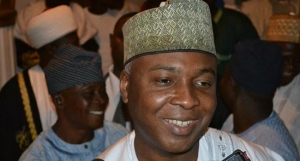 Senate President, Dr. Bukola Saraki, has congratulated the Governor-Elect of Ondo State, Mr Rotimi Akeredolu, over his victory in the governorship election in the state, describing him as the best choice for the state.
Saraki, in a statement by his media aide, said Akeredolu's victory did not come to him as surprise going by his excellent credentials and years of preparedness for the business of governance.
He urged the Governor-elect to be magnanimous in victory by ensuring that he works with all relevant stakeholders in the arduous task of moving the Sunshine State to the next level.
He specifically urged Akeredolu to fully deploy his wealth of experience in private legal practice in running the affairs of the state.
He lauded the security agencies and the Independent National Electoral Commission (INEC) for the peaceful conduct of the elections and thanked the people of Ondo State for voting for the All Progressives Congress (APC) during the elections.
"The people of Ondo have made a clear choice by voting for the APC. I can only assure the good people of Ondo that the APC and its flagbearer have all it takes to wipe away your tears and provide you the dividends of democracy that have hitherto eluded you.
"With Akeredolu on the saddle of governance, I have no doubt that the state will soon witness unparalleled development both socially, economically and politically.
"Ondo could not have made a better choice than Akeredolu. Welcome on board," he stated.