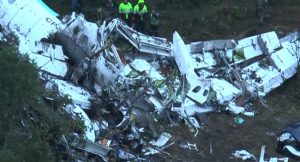 A chartered plane carrying top-tier Brazilian soccer team Chapecoense to the biggest game in its history crashed in the Colombian mountains, killing 75 people on board, authorities said on Tuesday.
Dozens of bodies were laid out and covered with sheets around the wreckage of the BAe 146 aircraft, which was lying in mud near La Union, a small town outside Medellin.
The plane went down about 10:15 p.m. on Monday with 72 passengers and a crew of nine. It was unclear what caused the crash, although local media said the plane had reported an electrical fault shortly before it disappeared off radar screens.
A Reuters reports that the plane split in two, destroying the tail end. Rain hampered the dozens of rescuers as they combed the muddy and forested area.
Chapecoense, from Brazil's top league, had been flying to face Atletico Nacional of Medellin on Wednesday in the first leg of the Copa Sudamericana final, South America's equivalent of the Europa League. On Tuesday, Atletico Nacional offered the championship to Chapecoense.
It was the first time the small club from the southern city of Chapeco had reached the final of a major South American club competition.
Colombia's civil aviation head, Alfredo Bocanegra, said by Tuesday morning, there were 75 confirmed fatalities, with six injured survivors. He said the death toll could rise.
Tributes poured in from the global soccer family and Brazil declared three days of mourning.
"I express my solidarity in this sad hour during which tragedy has beset dozens of Brazilian families," President Michel Temer said.
"The government will do all it can to alleviate the pain of the friends and family of sport and national journalism."
Brazilian news organisations said 21 journalists had been on board to cover the match.
Colombia's disaster management agency listed players Alan Ruschel, Danilo Padilha and Jakson Follmann as survivors.
Flight tracking service Flightradar24 said on Twitter the last tracking signal from flight 2933 had been received when it was at 15,500 feet (4,724 m), about 30 km (18.64 miles) from its destination, which sits at an altitude of 7,000 feet (2133 m).
The BAe 146 was produced by a company that is now part of the UK's BAE Systems