Imo Govt. Cancels All Agreements Between Communities And Oil Companies In State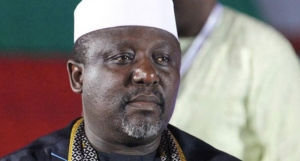 The Imo State Government has cancelled all agreements entered into by the leaders of oil producing communities in Ohaji/Egbema and Oguta Local Government Areas with oil companies operating in the areas.
The Imo State Governor, Rochas Okorocha, announced the agreement cancellation on Wednesday at a meeting with stakeholders and traditional rulers from Oguta and Ohaji Egbema Local Government Area of Imo State at the Imo International Conference Centre in Owerri, the state's capital.
He said the decision had become pertinent following complaints by the people of the affected communities that their leaders and elites from had short-changed them with such Memorandum of Understanding (MoU) by collaborating with the oil companies. The residents have threatened to take the laws into their hands for such reason, a decision the governor believes would be forestalled by the cancellation of the agreement.
He further directed that such MoUs would now be signed between the communities and oil companies with the full involvement of the government so that the locals would not be schemed out of such exercises.
The governor regretted that the oil companies had leveraged on the dubious activities of some leaders in the affected communities to deny the communities what should be due to them for the development of the areas.
"The oil companies have been reported to have always been insensitive to the plights of the oil producing communities and they have continued to adopt divide and rule tactics in the communities to achieve their selfish aims.
"I want to use this opportunity to say that my administration would no longer fold its hands and watch the oil companies cheat the oil producing communities again. What is good for the goose is also good for the gander.
"Henceforth, the government will be actively involved in all the agreements reached with all the oil companies operating in Imo State. It is not like that in other oil producing states. This time around things will definitely take a new tone," the Governor said.
Ohaji Egbema and Oguta communities are the two oil producing communities in Imo state and overtime residents have continued to complain of marginalisation and underdevelopment.