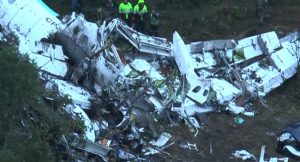 The plane which crashed in Colombia killing most team members of a Brazilian football club, Chapecoense, had run out of fuel, a leaked audio recording showed.
A pilot can be heard repeatedly requesting permission to land due to an electric failure and lack of fuel.
Just six of the 77 people on board the plane survived.
Chapecoense had been due to play a cup final on Wednesday evening. Fans instead have been gathering at their stadium for a memorial event.
The BBC reports that the leaked conversations between the flight crew and a Colombian air traffic controller give a glimpse of the frantic, final moments of the doomed plane.
The pilot can be heard warning of a "total electric failure" and "lack of fuel".
Just before the tape ends, he says he is flying at an altitude of 9,000ft (2,743m). The plane slammed into a mountainside near the Colombian city of Medellin late on Monday.
That there was no explosion when the plane came down also points to lack of fuel, with one Colombian military source telling the AFP agency its absence was "suspicious".
It is not known why the plane was out of fuel: whether it was due to a leak or because there was not enough on board.
Investigators have yet to announce any single cause for the crash and a full analysis is expected to take months.