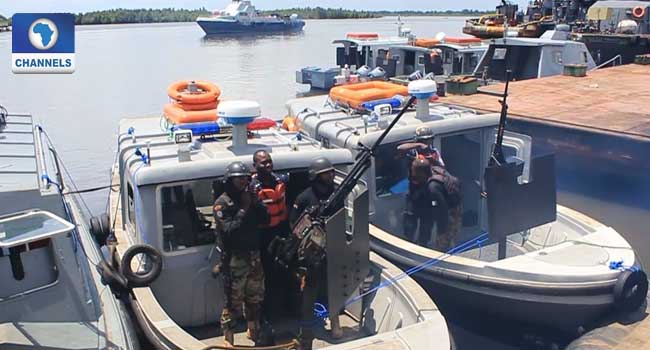 The Nigerian Navy is embarking on a sea exercise, named 'Exercise Eagle Eye', which is aimed at assessing its operational capacity in the fight against internal and external aggression along Nigerian waterways.
The Chief of Naval Policy and Plans, Rear Admiral Jacob Ajani, flagging of the operation, explained that it is set against the backdrop of the increasing myriad of threats and insecurity within and around Nigeria's maritime domain.
This, according to him, has indeed challenged the operational capacities of the Nigerian Navy.
Ajani explained in detail what the operation would entail.
This is not the first of initiatives carried out to bring an end to sea crime in the Niger-Delta and Gulf of Guinea regions.
In November, 'Exercise Sharkbite', was implemented to also tighten security around choke points in the maritime environment.
The Flag Officer Commanding, Eastern Naval Command, Rear Admiral James Oluwole, then explained that Sharkbite was not to inconvenience law abiding seafarers, but to give the assurance that adequate measures are put in place to protect them as well as their properties.
This is coming as pipeline vandalism and high sea criminality in general have appeared to be on the increase.
A group called the Niger Delta Avengers have claimed responsibility for most of the attacks on the oil facilities and there have been several attempts to clamp down on the oil thieves.
However, also in November, traditional leaders and some indigenes of the Niger Delta, presented 16 things they were confident would end militancy and bring development in the region if the government will consider them.