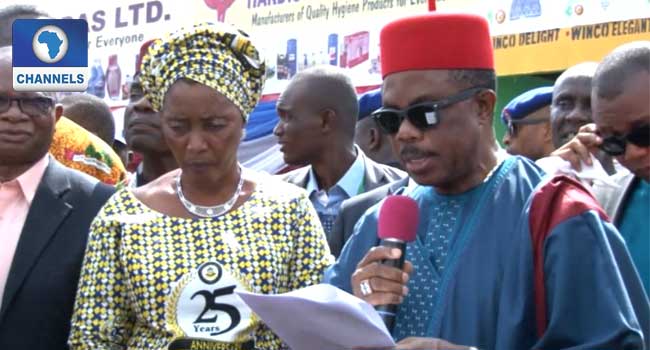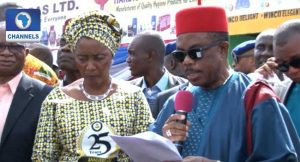 Anambra State Governor, Willie Obiano, says the state has become Nigeria's most popular investment destination with over five billion US dollars investment attracted in two years.
The Governor was speaking during the opening ceremony of the Joint Trade Fair of all the Chambers of Commerce in the state tagged, "The Jubilee Fair."
The trade fair with the theme, "to harness Anambra's natural resources for non-oil exports as a world class trade hub", was packaged with awareness of high standard expected of an international trade fair.
"Ndi Anambra, this trade fair could not have come at a better time. Anambra is indeed ready for the world. First, this is our 25th anniversary as a state.
"Second, Anambra is Nigeria's safest state at the moment and thirdly, our beloved state has become Nigeria's most popular investment destination with over five billion dollars investment attracted in two years.
"We are indeed in a better place today. Everything seems to be working in our favor. We have shaken off the dark days of violent armed robbery, kidnapping, child trafficking, and bloody shootout between rival gangs.
"We have made bold efforts to bring home our illustrious sons and daughter together on the altar of brotherhood. As a government, we know what our people expect from us and we are not relenting in our efforts to surpass the expectations of Ndi Anambra," he said.
The trade fair has seen over 100 business merchants from Anambra and environs with high expectations of attracting international business brands and investors who will tap into the commercial potentials of the state and step up the export potentials of the state.
Hundreds of business pavilions have been erected at the Dr. Alex Ekwueme Square Awka, the venue for the Trade Fair.
Various products on display ranged from agriculture and forestry, food and beverage and IT and Technology industries and the Governor was again blown away by the standard of the event as organized by the coalition of the three chambers of commerce in Anambra state for the first time.
"Before now, Anambra has three separate chambers of commerce, one each from Onitsha, Nnewi and Awka. Each chamber had made efforts to run its own affairs and hold its own trade fair, but I am told that their separate effort did not make as much impact as what we are witnessing here today", the governor said.
The governor reminded them of the breakthrough Anambra made in rice production with the production of Anambra Rice and the export of vegetables to the United Kingdom in 2016.
He insisted that the state could still make more positive statement in export business with proper coordination.
He urged all the big businesses, small and medium enterprises, entrepreneurs and all interested members of the community to participate in the trade fair and help develop the state.