I Won't Join APC For Ekiti 2018 Poll, Fayose Insists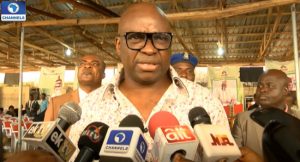 Ekiti State Governor, Ayo Fayose, has vowed that under no circumstance would he join the All Progressives Congress (APC).
Although he said earlier in the week that he was yet to be clear about the platform he would use to fight the 2018 succession battle in the state, Fayose said he remains constant and unshaken with the Peoples Democratic Party (PDP), the platform he used to win the governorship polls twice.
The Governor had on Wednesday in Ikere Ekiti, at a meeting with the members of the Suppliers' Association of Nigeria, Ikere chapter, said that he may not use PDP platform to present candidate for the 2018 poll.
Fayose's comment might be informed by the polarization of the party into the Ahmed Makarfi and Ali Modu Sheriff factions, which led to the failure of the party's candidate, Eyitayo Jegede in the just concluded governorship poll in Ondo State.
But speaking at the palace of Ewi of Ado Ekiti, Oba Rufus Adejugbe while being conferred with the honour of 'Outstanding Achiever of Our Time' by Ado Progressive Union, he said he will never dump the PDP for APC under any guise.
"I will never dump PDP for APC. I remain strong and unshaken for the PDP. I can't jump the boat, even if I want to jump, I won't jump into the red sea.
"Why should I leave the PDP and join a party of hunger like APC? Ekiti is different from Ondo. By the grace of God, there will be a repeat of history here in 2018, I shall repeat the 16-0 that I gave them in 2014.
"I operate like the biblical Elisha because those with us are greater than theirs. The God of Israel that conquered Philistines shall be on our side."