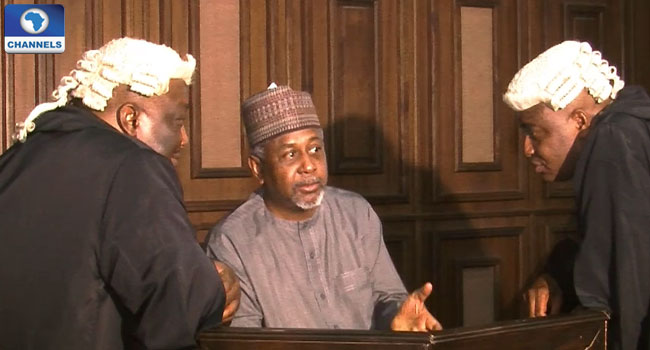 The trial of the former National Security Adviser, Colonel Sambo Dasuki , before a Federal Capital Territory High Court for alleged $2.1bn arms fund misappropriation, has been put off to January 25, 2017.
The adjournment of the trial followed the absence of one of the defendants in the trial, Mr Salisu Shuaibu, a former Director of Finance and Account in the office of the National Security Adviser, who was said to have taken ill and hospitalised.
Information on the condition of the defendant was conveyed to the court by the prosecution counsel, Mr Oluwaleke Atolagbe, who told Justice Baba Yusuf that he had been served with the medical report of the defendant confirming that he had been hospitalised.
Mr Atolagbe informed the court that the trial could not proceed in the absence of the defendant and therefore applied for a short adjournment pending the recovery of the defendant.
While counsel to Shuaib, apologised for the absence of his client, lawyers to other defendants in the suit did not object to the application for adjournment on the ground that Mr Salisu had always been present in court since the charge was filed against them.
Justice Yusuf in his brief ruling, agreed that since the charge was filed, the second defendant had never been absent in court and that for that reason, the court is obliged to grant the request for the adjournment and subsequently adjourned to January 25, 2017.
Justice Yusuf also adjourned a second case against the defendants which was transferred from Justice Peter Affen to January 24, 2017 for mention.