Jonathan, Okowa Take Message Of Peace To Niger Delta Region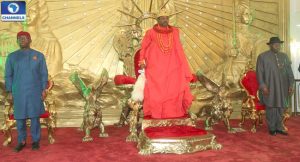 Former President Goodluck Jonathan and Governor Ifeanyi Okowa of Delta State have taken a message of peace to the creeks of the Niger Delta.
According to both leaders, the destruction of pipelines and other national assets in the area has not only affected revenue generated to the Federation Accounts but, has also, reduced revenue accruable to Delta State.
They both spoke during the presentation of the Staff of Office to the Pere of Gbaramatu Kingdom, HRM Oboro Gbaraun II, Warri South West Local Government Area of Delta State, agreeing that peace is the only solution for meaningful development to take place.
Thrilled with the display of a rich cultural heritage showcased by the people of Gbaramatu, the former President told the crowd that dialogue and peace were the only way forward.
"We need peace for development to take place, Nigeria is a great nation, no matter what is happening, Nigeria will, Niger Delta will succeed, Gbaramatu Kingdom will succeed" Dr. Jonathan said.
The ceremony, which was colourful, attracting political office holders, traditional rulers, captains of industries, friends and well wishers, caught the excitement of the Delta State Governor Ifeanyi Okowa.
He said: "It is time we realise that under a peaceful atmosphere, where everybody lives in peace, we can build a future of trust for our children.
"There is no alternative to partnership, when you are aggrieved, you have reasons to feel bad but, we can carry out our agitations with dialogue. It is time to forgive those who needs to be forgiven because, when we do that, it will be easier for us to speak boldly and be heard".
Thanking the state governor, HRM Oboro Gbaraun II encouraged his people to always uphold the culture and tradition of the Gbaramatu Kingdom.
Both leaders are pushing for peace in the region where militancy has resurged since second quarter of 2015, with oil facilities bearing the brunt.
Some oil companies have declared force majeure, as attacks on oil facilities increased.
A group that calls itself the Niger Delta Avengers has claimed responsibility for most of the attacks that have dropped oil production output to less than 1.6 million barrels per day, dipping the nation's revenue at a time it needs funds to finance deficit in its budget.
Attacks on oil pipelines have also affected power generation, with plants, which largely rely on gas supply from the Niger Delta region shutting down.
The situation has also forced the nation to reconsider more input in hydropower generation that it had relied on before huge gas deposit was discovered.