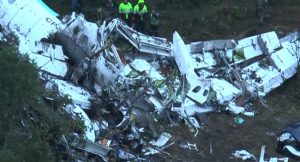 Prosecutors from Brazil, Colombia and Bolivia say their joint investigation into the tragic plane crash that killed most of the Chapecoense soccer team could expand as far as to the CONMEBOL regional soccer governing body.
The plane crash sent shock waves through the global soccer community with messages of support and solidarity coming in from around the globe.
Chapecoense players, backroom staff and officials were among the victims when the flight carrying the team to the Copa Sudamericana final against Atletico Nacional crashed in Colombia last week.
Brazilian prosecutor, Wellington Cabra, said that they could look into how the small Lamia Charter Company got authorization to charter soccer teams like Chapecoense and others.
These announcements come after authorities detained the chief executive of Lamia on Tuesday.
Meanwhile, Chapecoense defender, Alan Ruschel, who was one of six people who survived the deadly plane crash that killed 71 people, is recovering well.
He has also confirmed he would soon be back in brazil.
In a video released by the hospital where he is being treated, the Chapecoense defender could be seen walking around his hospital room and thanking supporters.
Ruschel was reported to have undergone spinal surgery after the crash and doctors told media he was progressing well.
The football world has united in its support for the Brazilian Serie A side, with numerous clubs and players having offered to help in the wake of the tragedy.
Barcelona have invited Chapecoense to play in the Joan Gamper trophy next season to pay tribute to the 71 people who died in the tragic air disaster.