Anambra Launches 2016 Dry Season Farming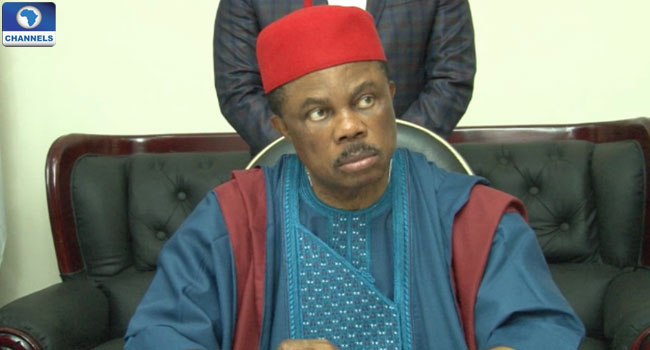 Anambra State Governor, Willie Obiano, has flagged off the 2016 'dry season farming and agric show' in Awka, the Anambra state capital.
According to the governor, he is advocating for an all season farming practice, as he believes that as climate is changing, food production and agricultural processes must also change.
The programme was attended by over 5,000 farmers and representatives of various cooperative groups from the 21 local government areas of the state, gathered to be part of the new initiative.
Re-enforcing the new farming initiative, the governor announced the introduction of practices and technology that would help reduce food losses through better technology for harvesting, storage, packing, transport, infrastructure and market mechanism, as well as institutional and legal frameworks.
The flag off which took place at the ABS Headquarters, Awka field, featured distribution of farm inputs, fertilizers, pesticides, improved and high yielding seedlings, as well as handover of motorcycles to deserving farmers for farm to farm movement.
With a strong resolve to ensure food security and sufficiency, Governor Obiano has made agriculture the number one pillar of his administrative blueprint.
Also, in the budget proposal for the 2017 fiscal year, a budget of 5.4 Billion Naira has been earmarked for agriculture alone, in which the state aims at being one of the top three producers of rice, maize and cassava.
With the challenges of climate change and the growing population however, there is need for agriculture and food system to find means of adapting to the adverse effects of climate change and becoming more resilient, productive and sustainable.
It is for this reason that thousands of farmers and cooperative groups gathered to re-dedicate themselves to the course of agricultural development.
The arrival of the governor charged up the arena where various food crops were on display for the agricultural exhibition.
He then moved round to inspect the crop harvest of 2016 as well as felicitate with the farmers.
While addressing the farmers, Obiano commend them for their steadfastness in the trending occupation and assured them that the state would support them with every necessary equipment needed.
He ended the event by distributing various farm inputs such as certified rice seeds, high variety vitamins, a termite free cassava stems and agricultural facilitating equipment like pesticides, irrigation equipment, tractors and motorcycles.
Women cooperatives, on the other hand, presented a gift to the governor and commended him for the support he has been giving them especially in the area of making available off takers who buy off their farm produce upon harvest.
The representative of the Minister Of Agriculture, Mr Albert Odukwe, stated that the governor's resolve to embark on all year round farming is a demonstration of his commitment to agriculture as a serious business which all must embrace.
The state Commissioner for Agriculture, Mechanization, Processing and Export, Mr Afam Mbanefo, also announced the agricultural success of the outgoing year.