Anti-Drug Agency Takes Campaign To University Students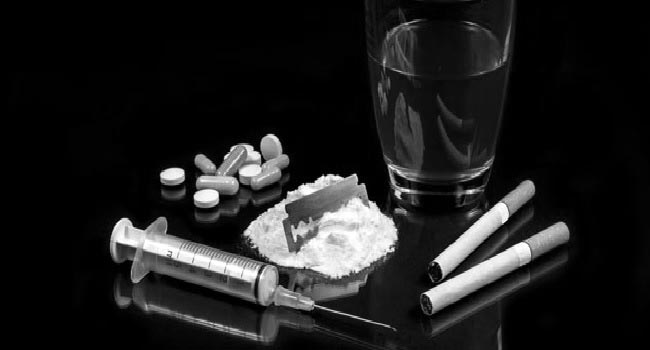 The National Drug Law Enforcement Agency (NDLEA) in Nigeria has taking sensitisation campaign to students of different campuses in Anambra State to warn students of the dangers of drug abuse and consumption. 
The Anambra state commander of the National Drug Law Enforcement Agency, NDLEA, Mr Sule Momodu, led the campaign as part of the agency's efforts in curbing the increasing and growing trend of drug abuse among students.
At the Auditorium at Nnamdi Azikiwe University, Awka, heads of faculties and departments, students and lecturers all gathered to interact on the trending anomaly that had caused loss of lives, mental disorder among youths and other negative effects.
According to Mr Momodu, the agency has resolved to embark on a massive campaign against the societal ill which would start with students so that anybody found culpable of the crime would have his or her academic activities terminated with prosecution following subsequently.
Early this year, the officers of the NDLEA stormed some student hostels in Awka upon the receipt of intelligence report of massive drug business going on in and off campus hostels.
Dubai hostel was one of the places visited and the quantity of cannabis recovered was disturbing. It was a clear indication that drug business was thriving in various institutions of higher learning with merchants from neighbouring states and communities conscripting students for the illegal business with the bait that they could make huge amount of money from it.
For those and many more, the Anambra State Command of the NDLEA, decided to bale the water while it was ankle deep by launching a massive campaign against illegal drug activities in schools.
The State Commander, after the interactive session with students, maintained that the rate of drug activities among students was giving cause for concern, informing the need to embark on the sensitization programme.
"We notice that there are so many students that are abusing drugs today so we believe that we need to work with the university to reach out to them and to let them know the consequences of their action. So this is just the beginning.
"The whole idea is first, let us meet with the deans, the head of departments, the departmental associations, and the leaders. We have met with them and we are now going to step it down to faculty levels so that we will see a bigger crowd, and we can now reach a bigger audience.
"The message we are taking to them is for them to "say no to drug abuse". Don't get involved. Like we say, high on drug, cold in death. We are just trying to make them understand that drug will destroy their lives and so it is better to stay off it, if you don't want your life to be destroyed," he told the gathering.
The Dean of Student Affairs, Professor Stan Udedi, also expressed worry over the latest development among students and said it was important that students were made to understand early the dangers of drug abuse so that they could by themselves preach to their fellow students for effectiveness.
Professor Udedi stated that the "spate of drug abuse and the rate of use of drugs by students is becoming high and it is affecting their behavior and it is affecting the society at large. So we want to know whether we can curb that trend so they can become better students in future. This TOT now ended, students will now be organised in their departments and faculties, NDLEA will now support them and we will have a faculty wide discussion that will now be led by the students, because we want the students to be at the forefront so that when they speak to their fellow students, it will make a lot of sense".
Some of the students who reacted to the sensitisation programme were shocked to learn that some of the effect of drugs on students could lead to death, loss of sanity, expulsion from school and other negative effects and they resolved to make use of all the safety methods advocated by the NDLEA in helping to save their fellow students as well as support in sanitising the society.
Above all, the consequences of termination of academic activities and prosecution with the culminating prison sentence should be enough deterrent to any student who may wish to indulge in illegal drug activities and the NDLEA is warning every student to desist.