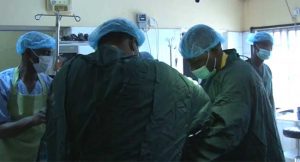 Over 500 indigent in Nasarawa residents have benefited from free surgeries and screening under the Rapid Response Initiative.
The initiative which was conducted in the Federal Medical Centre, Keffi is in line with the federal government's vision to reach out to 10,000 indigents across the country who cannot afford medical surgeries for various illnesses.
One hundred free surgeries were allocated to the Federal Medical Centre, Keffi and they have been conducted successfully.
In addition to the surgeries, free testing and screening was conducted to over 400 indigents to know their status on some killer diseases.
The Chief Medical Director, Dr Joshua Giyan, who underwent the surgeries himself with the help of some consultants of the clinic applauded the federal government for the initiative.
Mr Giyan also called on the people of the state especially well to do individuals to join hands to help underprivileged people in the state.
Happy with the initiative, he promises to sustain it even after the stipulated time.
"It is a step in the right direction, we are going to continue even after this. I urge all and sundry to put hands on deck and support this type of venture so that indigents will have succour in the area of health care," he said.
One of the beneficiaries, Blessing Edache who had lumps in her breast removed successfully, expressed gratitude to the Nigerian President for such initiative.
"I thank God for making it possible for me to be alive today. I was admitted here for an operation (breast lump), I thank the President for remembering us," she said.
Surgeries conducted include lumpectomy, inguinal herniorrhaphy, hydrocelectomy, cataract extraction, myomectomy, correction of refractive errors.
Screening for hepatitis, diabetes. prostate cancer, breast cancer were also conducted. Those found positive were counselled adequately on the next line of action.