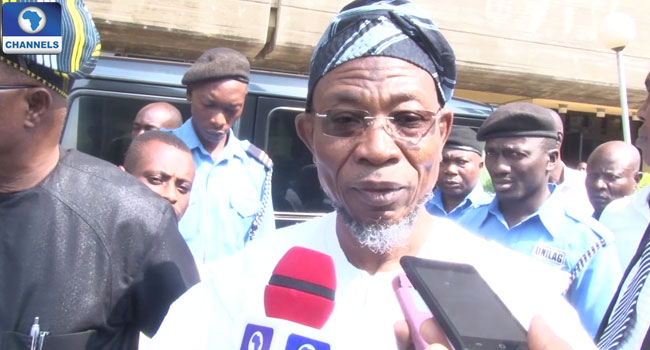 Governor of Osun State, Rauf Aregbesola, has tasked radio stations on the urgent need to use their platforms to educate Nigerians on the implications of the economic recession in the country.
Aregbesola specifically said radio broadcasters have great roles to play in doing this as well as promoting the peace of the society by discouraging hate messages and promoting those that enhance communal peace and stability.
The Governor stated this at the official commissioning of Oodua FM, established by a former member of the House of Representatives and an actor, Mr Rotimi Makinde in Ile-Ife over the weekend.
He said the disturbing war carnage scenes beamed into homes daily by foreign channels should be enough lesson for all, that promoting hate messages is inimical to peace.
He then asked journalists to dedicate themselves to peace and do away with divisive issues in discharging their duties.
Aregbesola said radio stations must at this time of hardship do all they can to support the government's efforts in promoting innovative and technology-based ideas to move the nation forward.
In his words, "my advice for the owner and the entire management of this station is to use the medium wisely to promote peaceful coexistence among the people in Yoruba land and Nigeria as a whole.
"Please do not politicise your activities at this radio station. Let this establishment be for the promotion of the highest values and ethos of Yoruba people.
"Strive to let this station be for the promotion of peace, harmony, love and affection among Nigerians especially Yoruba people.
"Shun any divisive tendency and use this station for educational purpose. Use it to promote our culture and balanced entertainment.
"Also, use this station to promote industry, productivity and efficiency as these, would go a long way in rescuing our society from the current recession we are all in.
The governor furthermore, condemned in its entirety the manner in which some broadcast media houses have been bastardizing the profession on self-serving interests.
He stressed that if not that his government's programs and policies resonated with the people, one of the osun-based radio stations whose name he chose not to mention, would have thrown the state into confusion through its hate messages.
"The time has come for journalists to be at the forefront of nation building and do away with subjectivity, favoritism and personal emotions," Aregbesola said.