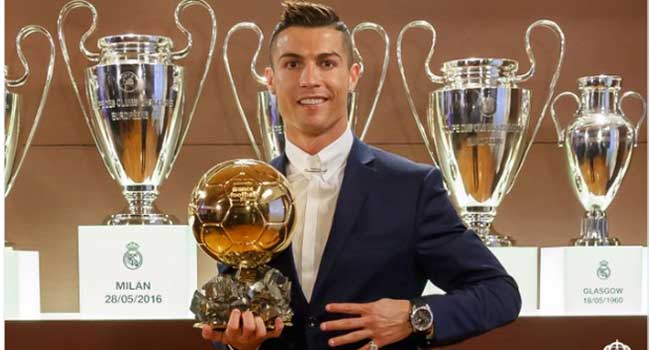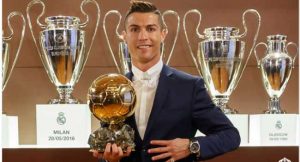 Real Madrid star, Cristiano Ronaldo has won the Ballon d'Or for a fourth time after seeing off rival Lionel Messi.
Lionel Messi finished second, while Atlético Madrid's Antoine Griezmann came third.
"A great honour to receive my fourth golden ball," Ronaldo said upon receiving the award at the Bernabéu.
"The emotion is like the first one. It's the dream come true again. I never thought in my mind to win the golden ball four times so I'm so pleased and happy.
"I have the opportunity to thank all my team-mates, the national team, Real Madrid, all the people and players who helped me to win this individual award. So as you can imagine I feel so proud and happy to receive this amazing and beautiful ball."
The prolific Portuguese, who previously lifted the prestigious prize in 2008, 2013 and 2014, has enjoyed arguably the most successful year 2016.
He won the Champions League with Real Madrid before captaining his country to European Championship glory in France.
Ronaldo is now one short of his Barcelona rival Lionel Messi's record tally of five. He remains the favourite as FIFA announces the winner of its Best Player award in January.
Leicester City's Jamie Vardy finished eighth and his team-mate Riyad Mahrez seventh