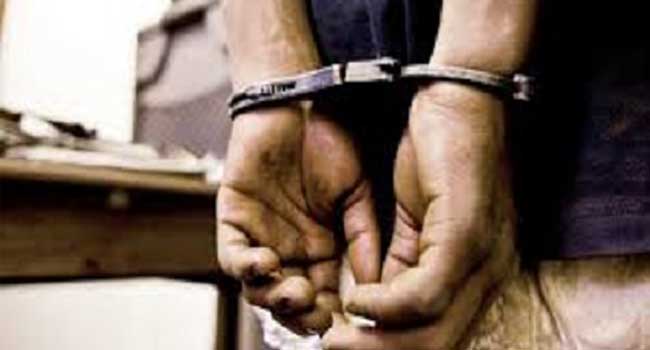 The Inspector General of Police Intelligence Response Team (IRT) has arrested one Umar Abubakar identified as the 10th gang member in the kidnap saga of the CBN Governor's wife, Mrs Margaret Emefiele in September 2016.
According to a Police statement, Umar Abubakar aka Kiriwa was trailed and arrested in Minna, Niger State on December 9, 2016 "consequent upon several weeks of monitoring and actionable intelligence gathering coupled with collaborative efforts of public spirited members of the community".
"Umar Abubakar, one of the arrow heads of the dare devil kidnapping gang led detectives to two (2) houses and three plots of empty land he purchased with the proceeds of his share of the ransom.
"The arrested kingpin confessed that he used three million naira (N3m), part of the ransom, to open a provision shop in Minna, Niger State which he was running with his wife.
"The original papers of the houses and plots of land have been recovered and registered as exhibits and the shop also sealed," the Police stated.
The Police promised that with the assistance and the support of the people, it would ensure that no crime committed will go undetected and perpetrators apprehended for justice and closure to prevail in the court of law.
The Inspector General of Police, IGP Ibrahim K. Idris, reassured members of the public of the readiness of the Police under his leadership to deliver dedicated and quality policing services.
He further urged all citizens to be vigilant, provide useful information and report suspicious movements and activities to the Police for prompt response.
Nine suspects linked to the kidnap of the wife of the Central Bank of Nigeria Governor, Mrs Margaret Emefiele, were paraded in the nation's capital Abuja in October.
Those paraded were two serving and one dismissed soldier, Lance Corporal Musa Maidabra, Lance Corporal Edwin George, and Anthony Uduefe.
The others are Mohammed Abubakar, who was said to be the gang leader, Mohammed Musa, Mohammed Sule, Ibrahim Abdullahi, Aliyu Musa and Mohammed Yusuf.
The Police, in a statement, revealed that over 14-million-naira cash, three vehicles and one AK-47 magazine and two cartridges were recovered from the suspects.
Mrs Emiefele and three of her aides were kidnapped on September 29 at Oquneki hills along Benin-Agbor road, in Delta state, but were all rescued the following day unhurt.
The kidnappers had demanded for the sum of 100 million naira ransom.