Rivers Re-run: INEC To Release More Results, Shifts Polls In Akuku Toru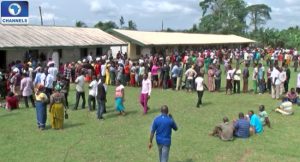 The Independent National Electoral Commission (INEC) says collation and announcement of results in the legislative re-run elections in Rivers State will continue on Monday.
Result of the South-east Senatorial District confirmed by INEC showed Magnus Abe of the All Progressives Congress defeated his closest rival, Olaka Wogu, of the Peoples Democratic Party.
The Commissioner of INEC in the South-south told reporters on Sunday night that the elections in Akuku Toru was shifted again, after elections could not hold there due to violence.
The Commissioner was optimistic that all polls would be concluded on Monday, as the collation and announcements of results are also expected to be concluded this week.
It is the second time that the electoral body is conducting legislative election in some Local Government Areas in the State, but violence marred polls again in some areas.