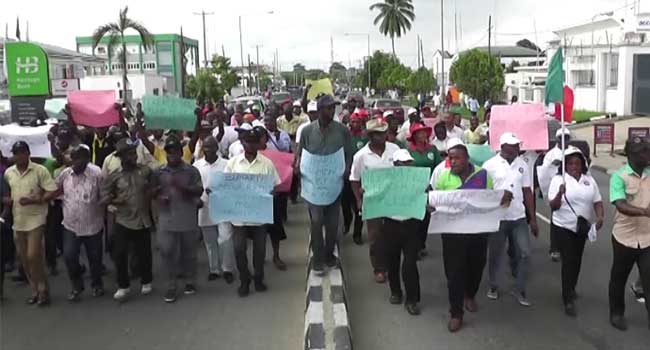 Health unions have come together and appealed to the Federal Government to pay attention to the issues of universal health coverage in Nigeria.
The workers made the call on Monday as they marched through the streets of Abuja to mark the 2016 Universal Health Coverage Day.
They also used the medium to press home their demand, ahead of the presentation of the 2017 Appropriation Bill to the National Assembly.
The civil servants urged the government to increase budget for health from the current 4.5% to the 15% adopted by the African Union 15 years ago.
A founding partner of Health System Consult, Nkata Chuku, lamented that only eight countries in Africa, excluding Nigeria, have tried to implement the Abuja Declaration of 2001 where African leaders committed to use 15% of their budget to fund the health sector.
Reality In Health Sector
Chairman of the National Immunisation Task Team, Ben Anyaele, also noted that the current dwindling national revenue was not an excuse for the government not to fund the sector adequately.
According to reports, government earmarked 221.7 billion naira out of the 6.08 trillion naira it budgeted for 2016 to fund the health sector.
Some demonstrators, however, alleged that the reality in the sector was a far cry from what government claimed to have spent.
A medical doctor, Henry Ewunonu, urged President Muhamadu Buhari to revisit the Abuja declaration before submitting the 2017 budget to the National Assembly.