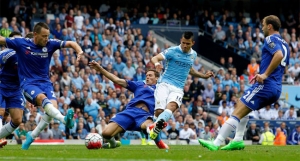 Manchester City and Chelsea have been fined £35,000 and £100,000 respectively.
The penalty was issued on Tuesday after players from both teams clashed when the Blues visited the Etihad Stadium earlier this month.
The dispute erupted at the end of City's 3-1 defeat, after Sergio Aguero was dismissed for a tackle on David Luiz.
Fernandinho was consequently sent off after grabbing Cesc Fabregas as the two teams confronted each other.
Visiting Chelsea had earlier been warned they could face a point's deduction.
The penalty follows the ban placed on City's Yaya Toure by a court in England, not to drive for 18 months.
The Ivory Coast international, who pleaded guilty to drink-driving, was also fined £54,000 as means-tested fine.
He admitted that he was above the permitted limit and did not challenge the charge preferred against him.