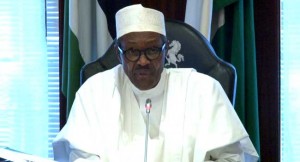 Nigeria's President, Muhammadu Buhari, has presented the 2017 appropriation bill to a joint session of the National Assembly.
The President gave the assurance that there will be no such thing as budget padding in the document.
He condemned what he termed injecting rogue projects and figures into the financial document, saying it is unfair to Nigerians and detrimental to the growth of the economy.
Meanwhile the Minister of Budget and National Planning, Udoma Udoma says the federal government intends to spend 10 trillion naira and will issue new oil licenses as part of efforts to explore new streams of revenues to fund the 2017 budget.
Udoma made this known when he appeared before the Senate joint committee on appropriation and finance to defend the revised Medium Term Expenditure Framework (MTEF) and the Fiscal Strategy Paper (FSP).
He said that the federal government would also review the current joint venture arrangements with oil companies, marginal oil fields as well as mount pressure on revenue generating agencies to surpass expected targets.
Udoma said a total of 10 trillion was being targeted by the federal government as revenue for the 2017 fiscal year.
According to him, out of this amount, about 5 trillion Naira is expected to be generated from the sale of crude oil. Non-oil revenues will rake in about 5.06 trillion Naira.