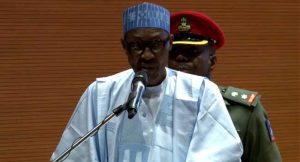 President Muhammudu Buhari has presented a budget proposal of 7.298 trillion naira for the 2017 fiscal year.
Addressing a joint session of the National Assembly on Wednesday, President Buhari said that the implementation of the 2016 budget was hampered by low crude oil prices.
The 2017 figure has an increase of 20.4% over the 2016 figure.
Budget Breakdown
The 2017 budget is based on a crude oil benchmark price of $42.50 per barrel, with an output of 2.2 million barrels per day.
The highlights of the budget include improved business environment, governance as well as security of lives and property.
Government's expenditure is to be funded with the sum of 4.94 trillion naira while oil is to contribute 1.98 trillion naira of the amount.
The deficit of 3.63 trillion naira, which is 2.18% of GDP, is to be financed through borrowing the sum of 2.23 trillion naira.
Of this sum, 1.7 trillion would be from external borrowing while 1.254 trillion would be sourced domestically.
Key capital spending provisions would be on power, works and housing, which have been allocated the highest amount of 529 billion naira, followed by transport – 262 billion, social intervention – 150 billion, defence – 140 billion while the judiciary got an increased allocation of 100 billion naira.
The area of education got 50 billion naira while universal basic education got a direct allocation of 92 billion naira.
The sum of 51 billion naira was also allocated to health.