Police To Ensure Peace Ahead Of Abia Election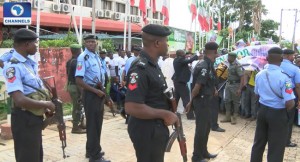 Ahead of the December 21, 2016 local government election, the Abia state Police has put measures in place that would entail signing a peace agreement by the political stakeholders.
Police Commissioner, Adeleye Oyebade, during an event held at Aguiyi Ironsi Conference Centre, Umuahia, which brought all the stakeholders in the election together, hinted that the proactive measure is aimed at preventing electoral violence before, during and after the elections.
According to him, all the political parties and other stakeholders participating in the election are mandated to sign the document and abide by the rules and guidelines as regards the conduct of the election.
Explaining the process, Mr Oyebade said; "we are going to use tags to identify the real policemen involved in the election duties and if there are allegations, we must investigate as long as the accuser can prove beyond reasonable doubt the allegations of what the policeman has done.
"Believe me, Information technology has done everything -All of us here have phones, if you record and show it, it can even be acceptable when it comes to the court of law but you have to proof yourself beyond reasonable doubt.
"As you have your fundamental rights, so also the police officers, everybody must come to understand that we are in a different environment where everybody must be accountable to his or her actions, either as a policeman, or contestants, or as a member of the commission.
"Each person has roles to play and we must work through the roles we are playing with respect to the rule of law.
"Do not be perturbed; if there are allegations labelled against the police and it is proven right, they would face the music because the police has a code of conduct that is guiding the conduct of our office.
"My advice is that everybody must follow the rules of law and not to engage in violence, that is why we have brought everybody here.
"We are going to have enough policemen on ground to make sure that whoever want to create any pandemonium or chaotic situation, we will get to attend to such people.
"I want to assure you that the police would be fair to all, we have no interest in one party or the other, the interest of justice is our business and will ensure fairness and justice," Oyebade stated.
One after the other, the chairmen and representatives of all the political parties signed the agreement.
Meanwhile, Abians and inhabitants of the state are expecting to witness credible as well as violence free polls, if the agreement signed by the political stakeholders is anything to go by.