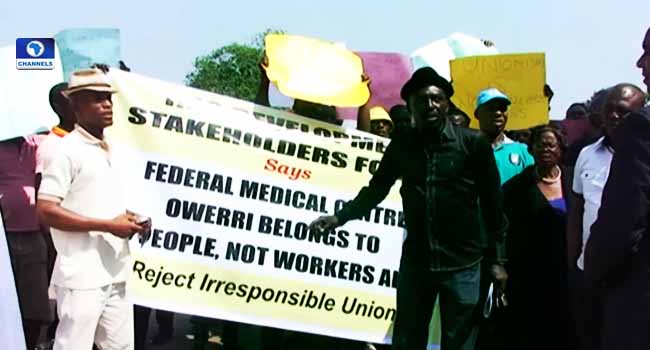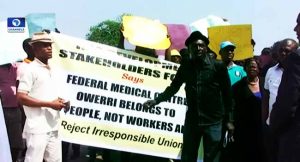 Concerned residents have taken to the streets of Owerri, the Imo state capital, to call on various interest groups at the Federal Medical Centre (FMC), to give peace a chance.
For over a year, the medical centre has been plunged into what seems to be unending controversy and disagreement between the management and the workers.
The prolonged crisis is over the recall of the medical director of the institution, who the workers say they no longer feel comfortable with.
Now, a group of Imo citizens are intervening in the crisis, calling on all concerned to sheath their sword.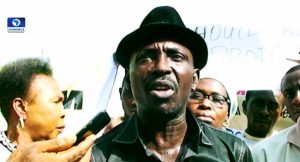 Leader of the protesters, Mr Princewill Okowe, said the FMC Owerri "was set up for the benefits of the Imo people and not unionists and for over one year, the people that claim to be unionists have made the FMC not to function normally".
According to o him, "the Federal Medical Centre is the only federal tertiary health institution we have in Imo state".
"If that centre is messed up, any health challenge at the level of tertiary health care, will mean that the Imolites would have to travel to other states to access tertiary health care and that wouldn't met with the good welfare of our people," he stressed.
Financial Misappropriation
The institution's MD, Mrs Angela Uwakwem, was arraigned by the Economic and Finanacial Crimes Commission (EFCC), on an 18 count charge, bordering on financial misappropriation and embezzlement to the tune of 242 million Naira.
This followed a petition by the (Joint Health Sector Union) JOHESU Of the Federal Medical Centre, Owerri.
Counsel to the EFCC, Mainforce Ekwu, alleged that according to the petition, Mrs Uwakwem, conspired with one Mr Emmanuel Ajayi, to inflate the price of medical equipment bought for the centre.
The accused on the other hand, pleaded not guilty to the 18 count charge leveled against her.