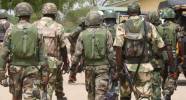 The military joint task force in south-south Nigeria says it has apprehended a notorious pipeline vandal popularly known as "General Eagle".
The Commander of the task force code-named "Operation Delta Safe", Rear Admiral Apochi Sulieman, announced the arrest on Thursday during a media parley at the JTF Headquarters in Yenagoa, the Bayelsa State capital.
Rear Admiral Sulieman said that based on a tip off, the task force also raided a lodge and arrested one Mr Funebi.
The second suspect was alleged to be a known sea pirate and pipeline bleeding expert, as well as an henchman in charge of arms.
The commander further revealed that three other suspects were arrested for pipeline vandalism and items recovered from their hideout are seven mobile phones, 15 identity cards, an ATM card and a jack knife.
While the suspects are still undergoing further interrogations, the task force has reaffirmed their commitment to ensuring peace and economic stability in the Niger Delta region.