Bayelsa Governor Appoints Commissioners To Push Tourism, Others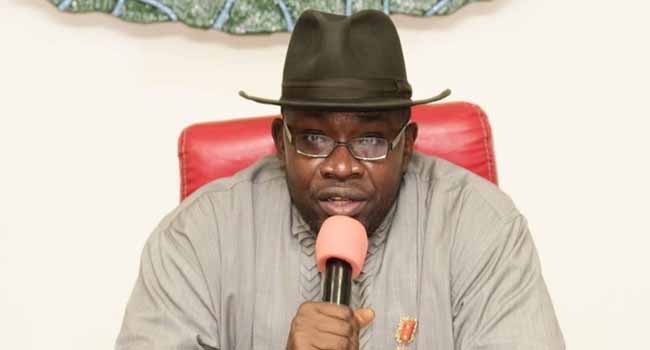 Governor Seriake Dickson of Bayelsa State on Friday expanded his cabinet with five new commissioners to push the state's drive of promoting tourism and other sectors.
They have been charged to align themselves to the ideals and vision of the restoration agenda, towards delivering quality services to the people.
The Governor while swearing in the commissioners at the new Executive Council Chambers of the Government House in Yenagoa, called on the appointees to exhibit a high sense of dedication and loyalty in the discharge of their duties.
The commissioners are, Professor Ebitimitula Etebu for the Ministry of Health, Mr Austin Dressman is in charge of the Ministry of Ijaw National Affairs and Culture, Mrs Ebiere Ajuwa Musa was assigned the portfolio of Ministry of Tourism Development, Mrs Martha Jenakumo for the Ministry of Women Affairs while Mr Tamunobere Oguoh heads the Special Duties, West Senatorial district.
Describing the Commissioner for Health as a thoroughbred medical personnel, Governor Dickson said, his antecedents were exemplary and urged him to streamline all the massive investments made in the sector.
According to him, the state has put in place world class health facilities, including the diagnostic centre equipped with a forensic unit and by next year, the government will construct and equip health centres in each of the 105 wards to take healthcare delivery closer to the rural dwellers.
"We want to have the best facilities in all spheres. Very soon, we are going to be number one in agriculture, sports, education and now we want to be number one in medical tourism, with the facilities that we are going to put in place.
"We will have a situation where no Bayelsan will need to travel out to receive healthcare.
"Not only that; we want all Nigerians and people from other places to come to Bayelsa for healthcare services. Your duty will be to harmonize all of these. We have the forensic unit at the Diagnostic centre which is 90% set.
"Knowing you as a thoroughbred professional, you have been brought into government at this time to put your seal of professionalism to all these initiatives and you have on ground, a team of competent medical personnel ready to work with you. I have no doubt that the team working under your leadership, our vision of making Bayelsa number one in the area of tourism and healthcare delivery will be achieved," he told the appointees.
Governor Dickson also charged the commissioner for Ijaw National Affairs and Culture to mobilise the Ijaw nation for a positive national development, urging him to bring his wealth of experience as an activist to bear on his new assignment.