Environment Minister Set For UN, Says Legacies Will Live On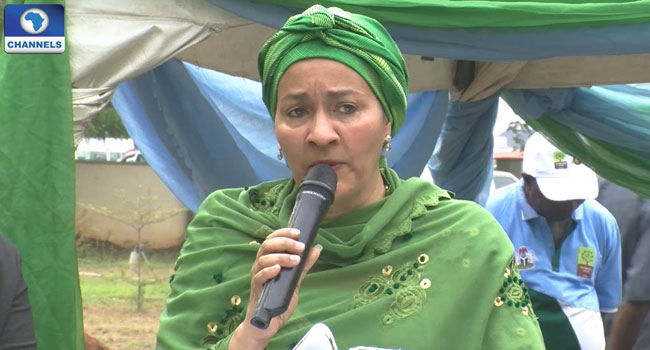 The outgoing Minister of Environment in Nigeria, Mrs Amina Mohammed, says the Ogoni clean-up and the establishment of the Great Green Wall are legacies which will outlive her time in office.
She made the statement as she prepares to assume office as the next Deputy Secretary-General of the United Nations.
Her appointment was announced on Thursday by the United Nations Secretary-General-designate, António Guterres.
He said he "will be appointing Amina Mohammed of Nigeria as the UN deputy chief", on his assumption of office as the ninth chief of the global organisation in January 2017.
Giving an account of her one year in office at the Federal Ministry of Environment Headquarters in Abuja on Friday, the minister stated that the war on environmental pollution was entering a critical implementation phase in the first quarter of 2017.
From supervising Nigeria's contributory implementation of the United Nations Convention on Climate Change to cut back carbon emissions by 27% over the next 15 years, the outgoing Minister of Environment now moves to superintend over the coordination and administration of United Nations' policy around the world.
Urging patience from the locals in the Niger Delta, the outgoing minister emphasised that the clean-up of Ogoniland is in effect and on course.
The minister stated that laws establishing agencies under the ministry had been revised for legislative amendment to ensure greater efficacy while critical infrastructure and equipment have been updated with further construction in progress.
The outgoing minister affirmed that progress had been recorded in reducing the sulphur content in Nigeria's fuel supply to reduce emissions even as the ministry has partnered with the Federal Road Safety Corps to remove excessively polluting vehicles from the road.
While the new UN Deputy leaves the domestic environment to make influential inputs affecting the environment of the global village, she maintains that her keen interest in Nigeria's environmental health will not abate as she departs office.
She has served as Special Advisor to Secretary-General Ban Ki-moon on Post-2015 Development Planning, where she was instrumental in bringing about the 2030 Agenda for Sustainable Development, including the Sustainable Development Goals (SDGs).