Exhibit More Diligence And Loyalty, Army Tells New Senior Officers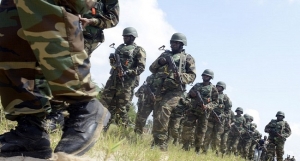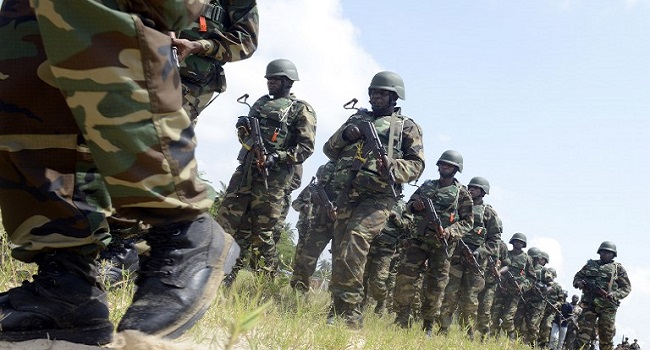 Newly decorated senior officers of the Eight Task Force Division of the Nigerian Army have been urged to exhibit more diligence, dedication and loyalty in their professional calling.
The General Officer commanding the division, Major General Ali Abdu Nani, who decorated senior officers of the division elevated in the recent promotion exercise conducted by the Nigerian Army, made the request.
Two senior officers, Colonels Francis Tunji Ojerinde and Tonye Thanks Numbere, who were elevated to the rank of Brigadier General, were decorated with their new badges of rank by the GOC and the Commander 48 Division Engineers, Major General Chukwuemeka Okonkwo respectively.
Two other senior officers Lieutenant Colonels Sebhil Adeyemo and Yunus Zubair, who were promoted to the higher rank of Colonel were equally decorated with their new ranks.
Addressing the newly promoted officers during the investiture ceremony, the General Officer Commanding urged all officers of the Division to renew and reinvigorate their zeal to put an end to the activities of insurgents in the fringes of border towns in northern Borno.
A statement by a spokesman for the Army, Colonel Onyema Nwachukwu, said General Nani further urged those who did not benefit from the recent promotions not to lose hope but rather rededicate themselves and shore up their productivity.
The General Officer Commanding Eight Task Force Division had just been promoted to the rank of Major General and was decorated at the Army Headquarters by the Chief of Army Staff Lieutenant General Tukur Yusuf Buratai.
Brigadier General Francis Ojerinde, who spoke on behalf of the newly promoted officers, showered encomium on the authorities of the Nigerian Army, adding that their promotion was a call to higher responsibilities which must be assiduously pursued.
The event was graced by all officers of the Division Headquarters.