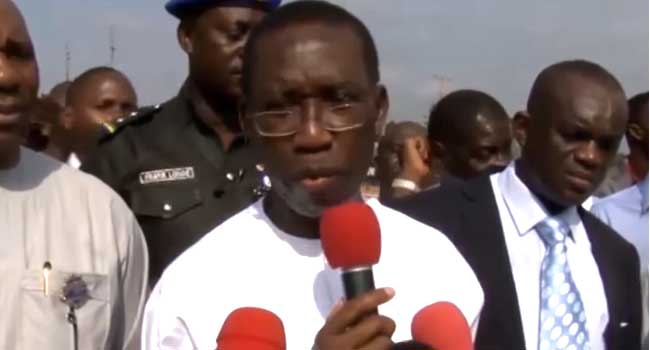 The Governor of Delta State, Senator Ifeanyi Okowa, has warned that the government would no longer tolerate any further outbreak of crisis among communities in Ogbe Ijoh and Aladja.
The warning was issued to put to an end to killings and maiming as well as curb the worsening security situation in the area.
Governor Okowa gave the warning during an extended Security Council meeting in Asaba that had traditional rulers and youths from Urhobo and Ijaw communities in attendance.
He said that the government was losing its patience with the perpetrators of the crisis and would not allow the crisis to degenerate into an inter-tribal war.
The meeting is coming on the heels of deteriorating security situation and the alleged beheading of people by suspected youths in the communities.
Not Ready For Peace
Reading a riot act to the warring communities, Governor Okowa said he would not hesitate to deal decisively with leaders of both communities in the outbreak of another crisis, urging them not to take the state government for granted.
He explained that the government had made frantic efforts to broker peace between the two communities which have not yielded any positive results and directed security agencies to arrest the President Generals, Women and Youth leaders if any further crisis erupts.
"We have been doing a lot to stop the crisis but it appear these our brothers are not ready for peace and are ready to drag us into an ethnic war which will not help anybody.
"We cannot close our eyes to the inherent danger in their actions.
"I have directed the security agencies that the President-General, Youth and Women leaders of the communities should continue to report weekly to the Naval Base and they should be held responsible if there is further escalation of the crisis," the governor said.
The Governor appealed to the traditional rulers, especially those of Aladja and Ogbe-Ijaw communities, to cooperate with the government and security agencies in enthroning lasting peace, warning that appropriate actions might be taken against them if the crisis continued to escalate.
"I have not gotten enough cooperation from the traditional rulers of Ogbe Ijoh and Aladja communities and we have a lot of respect for your office, but I wish to caution that that respect would be withdrawn if we have further crisis.
"I will not hesitate to take appropriate actions against the two traditional rulers if we hear any further crisis.
"We cannot continue to act in this manner, it is time to maintain law and order in the area," Governor Okowa said.
He further described as worrisome, security reports which indicated that the crisis was degenerating into a full scale war between the Urhobo and Ijaw ethnic nationalities and appealed to traditional rulers in the state to compliment government's efforts at ensuring the restoration of peace as "it is difficult to maintain peace without the royal fathers".