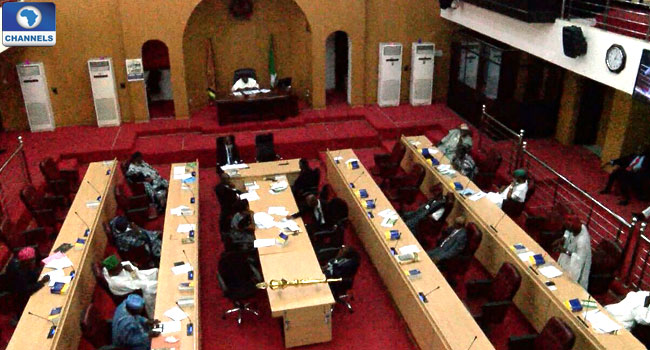 Osun State House of Assembly has finally cleared the insinuation surrounding the bailout loan amounting to 34.988 billion Naira which was given to the state by the Federal Government.
The clearance by the Assembly followed the presentation of the report of investigation on the 25.871 billion Naira given to the state and 9.117 billion Naira to the local government, which was adopted at the plenary on Tuesday.
The Speaker of the House, Honourable Najeem Salaam, said the Assembly had tracked the bailout fund and discovered that it had been judiciously utilised by the manager of the fund meant for the payment of salaries and allowances.
He re-emphasised that by the findings of the parliament, the balance of the 25.8 billion Naira given to the state was 2.040 million Naira in First bank and 1.312 million Naira in Wema Bank, amounting to 3.353 million Naira while the balance of 9.117 billion Naira given to the local government was 173.226 million Naira in Zenith Bank, giving the total balance of 176.579 million Naira.
"Our findings have shown that the bailout loan has been judiciously spent and that is to tell you that we are tracking the disbursement of the fund.
"However, the Committee on Public Account will go further to investigate the one interest on credit balance on monthly basis.
"We will also look into the activities of Chams, the consultant that is handling the payment of salaries in the state to monitor the activities of the company too," the speaker said.
Noting that the Assembly was committed to the development of the state, he said, the parliament was committed to stabilising the policy of government.
Presenting the report earlier, the Chairman of the House Committee on Finance and Appropriation, Honourable Kamil Oyedele, said it was observed in the course of investigation that the bailout fund released for the state was less than the amount needed and requested for to clear the salary arrears.
He said that all transactions made on the bailout fund were solely for the payment of salaries, allowances, pensions and other salary-related expenses.
Reacting to the report, the Deputy Speaker, Honourable Akintunde Adegboye, Leader of the House, Timothy Owoeye, Ajibola Akinloye (Ola-Oluwa), Kamardeen Akanbi (Ede North) and Olatunbosun Oyintiloye (Obokun) among others commended the presenters of the report for capturing every aspect of the investigation.
They said the report would clear insinuations and doubts on the applications of the bailout loan to the state and the local government.
The members of the House had initiated the investigation after the Nigerian Senate declared interest to investigate how the funds were used.
Some aggrieved pensioners that the state government is still owing had few weeks ago said they were not confident in the investigation by the House, alleging that the lawmakers would be bias.