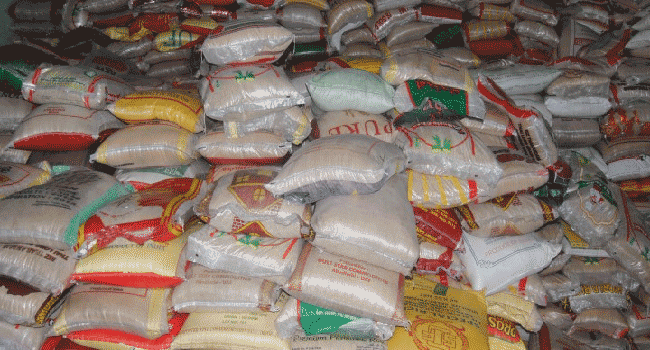 The Nigerian Customs Service in Lagos, has uncovered 102 bags of plastic rice imported into the country.
According to the Federal Operations Unit "Zone A" of the service, the smugglers had planned to cash in on the rush for the staple food during the festive season.
Comptroller of the Unit, Mr Haruna Mamudu, told journalists that his men are working to unravel how the products came into the country.
Meanwhile, Nigerians have been warned to also be extra vigilant as they purchase consumables ahead of the yuletide.
Since recession hit Africa's largest economy, there has been an upsurge in the cost of the staple food from about 12,000 Naira per bag of rice to over double that amount.
Rice Exportation
As a way of seeking solutions to the recession, the federal government, as well as several economic analysts, suggested a ban on the importation of such products which the nation's farmers can produce, though not in sufficient quantity.
The government said it can no longer sustain the importation of foreign rice which has continued to hamper the growth and development of the nation's peasant farmers who are into local production.
The increase in prices has pushed many to resort to smuggling of rice to be able to sell cheaper to Nigerians.
The Anchor Borrowers' Programme is one of the initiatives by the Central Bank of Nigeria (CBN), that has immensely supported farmers in the local production of rice.
Based on the yields so far, Acting Director, Corporate Communication, CBN, Mr Isaac Okoroafor, had however said that before the end of 2017, Nigeria will begin to export rice to other countries.