Kafanchan Crisis: Protesters Burn Jema'a LG Chairman's House, Worship Places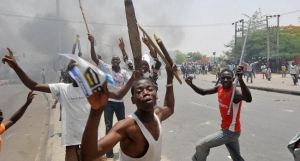 Some youths in Kaduna State have attacked the residence of the Chairman of Jema'a Local Government Area, Dr. Bege Katuka, during a protest over the killing of their people by suspected herdsmen.
Dr. Katuka's residence, which is located a few meters away from the council's secretariat, was burnt down completely while some houses, shops, vehicles and places of worship were also torched.
The angry youths accused the chairman and the State government of not doing enough to stop the persistent killings going on in Southern Kaduna.
Witnesses told Channels Television that the incident occurred on Monday night and lasted till the early hours of Tuesday.
In his reaction, Dr. Katuka described the protest as politically motivated and aimed at breaching the fragile peace in the area.
The protest has led to the imposition of a curfew on Jema'a and Kauru local government areas of Kaduna State in northwest Nigeria.
Having suspended all his official engagements, Governor Nasir El-Rufai visited the affected areas with his deputy and top government officials and subsequently held a Security Council meeting in Kafanchan.
This is the second time the governor is holding such meeting in Kafanchan in 2016, as part of effort to find a lasting solution to the attacks that have claimed hundreds of lives and destroyed property worth millions of Naira.
While the meeting was ongoing, hundreds of women and youths gathered outside the compound of the venue, demanding to see the governor.
Addressing the women, Governor El-Rufai urged them to remain calm and assured them that the government was doing its best to beef up security and bring normalcy to the area.
He also stressed the importance of living in peace with one another, adding that no matter the effort of government, the people hold the key to lasting peace in the area.
The governor also visited the Emir of Jema'a, Muhammadu Isah Muhammadu, Chief of Kagoro, Ufoi Bonet and Chief of Marwa, Tagwai Sambo, where he solicited for their support in restoring peace to the area.