Army Rescues 1,880 Civilians From Boko Haram Enclaves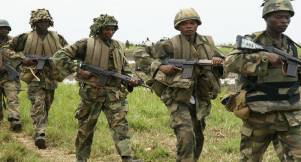 Troops of the Operation Lafiya Dole have dominated most parts of the Sambisa Forest including notorious Boko haram enclaves, rescuing a total of 1,880 civilians between December 14 and 21, 2016.
This was according to the Theatre Commander Operation Lafiya Dole, Major General Lucky Irabor, in a news conference in Maiduguri.
Amdaga, Bitta, Sassawa, Tokombere, Jefe, Ndenema, Turori and Sambisa Gate one, are some of the areas General Irabor listed as liberated.
"On 15 Dec 2016, our troops conducted robust clearance operations in the general areas of Kangarwa, Metele, Dogon Chuku and environs.
"The troops cleared all Boko Haram Terrorist enclaves in both Kangarwa and Metele villages killing one of them and capturing an elderly man who confessed to be the Amir of the adjoining Tumbus ahead of Dogon Chuku. The arrested Amir later died of gunshot wounds." Irabor stated.
According to the force, clearance operations around Masa and Gulumba Gana areas also led to the rescue 67 female adults, 23 male children and 19 female children held hostages at Masa village.
The theatre commander said 600 rounds of 7.62mm (NATO) ammunition were discovered hidden in a plastic container and buried in a River around the Gwange area of Maiduguri, the capital city.
Similarly, "a total of 564 BHT were arrested while 19 others surrendered to our troops. Seven suspected kidnappers and 37 foreigners were equally arrested".
Alleged Maltreatment of Soldiers
The news is coming barely 24 hours after a video portraying alleged maltreatment of soldiers, surfaced the internet.
Mr Irabor, addressing the issue, said:
"The video clip was shot on 31st March by "some mischievous and disgruntled" elements when troops captured Alagarno Forest during Operation CRACKDOWN on 28 March 2016.
According to him, the Board of Inquiry instituted to investigate the matter, actually showed that at the time of the incident, the unit's water tanker still contained water but a soldier mischievously concealed it.
The soldier was charged and punished accordingly.