Data analyst, Babajide Ogunsanwo, believes that Nigeria would have to "put all her eggs into the non-oil revenue basket", to lift the economy out of its current recession and into prosperity.
He said this while analysing the 2017 budget proposed by the Federal Government on Channels Television's breakfast show, Sunrise Daily.
According to him, the proposed budget, summarises the fact that "perhaps oil can lead us out of recession".
Explaining further, he said: "Last year when the president, presented the 2016 budget, he had used the word 'oil' nine times, this time, he used it 20 times.
"Also, in last year's budget presentation there was no mention of recession; this time, he mentioned recession three times and the mention of 'non-oil' has even reduced.
"Today's budget says we expect to earn 1.9 trillion Naira from oil; that is higher than what we are expected to earn from either independent revenue from the government or even from non-oil revenue".
Meanwhile, analysing how much the nation earns from oil production, Ogunsanwo compared the economies of Kuwait and Saudi Arabia, alongside Nigeria.
"Kuwait exports 158 litres of oil daily, per person, Saudi Arabia 56 litres, Nigeria two litres," he said.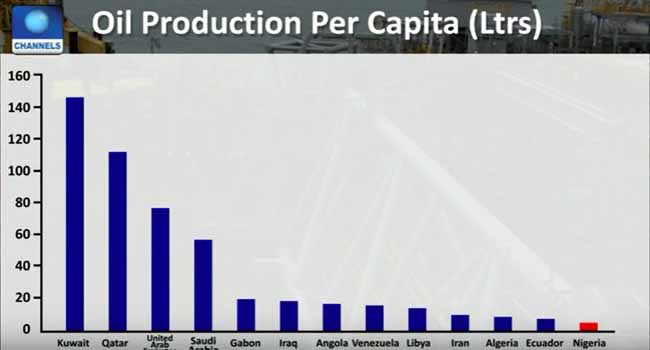 Looking at this, "can oil really save us?" he questioned.
The analyst believes that "because of our population, the revenue we get from crude oil cannot lead us into prosperity" but would rather lead us into obscurity.
"The revenues we earn will not be sufficient to take care of not just this generation but will never be able to take care of the generation unborn".
Citing examples such as Google, he then went on to suggest that "we can use ideas to push the country into prosperity".