Ooni Reveres Jesus Christ, Says His Forgiving Spirit Must Be Coveted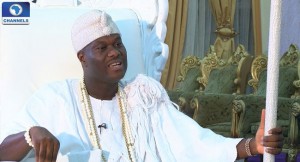 The Ooni of Ife, Adeyeye Enitan Ogunwusi (Ojaja II) has described Jesus Christ as the Lord of Peace and Love with an unparalleled forgiving spirit that the world must covet for absolute peace.
He believes Christ should always be remembered and honoured with the existence of love and peace by the Christians, saying it is the only way harmonious co-existence can be achieved not only within the ranks of his followers but also among the members of the larger global society for whom Jesus lived and died over 2,000 years ago.
Ooni Ogunwusi made the admonition on Saturday in his Christmas message through a press statement by his spokesman, Comrade Moses Olafare.
He stressed that the people of the world must see themselves as one before God Almighty and must treat one another with forgiveness, peace and love, as symbolised by Jesus Christ if the world must be a conducive place for everyone to survive.
"There is no greater gift and honour you can give to Jesus Christ other than exhibition of forgiving spirit, display of love and ensuring of absolute peace because these are what the lord Jesus symbolises.
"We all must see ourselves as equal before the almighty God who purposefully created us with different cultural backgrounds.
"The surest way of achieving the much needed global harmony is when we always imbibe the spirit of forgiveness and extend hand of love and peace to one another. With this, Jesus Christ will be happy in heaven, God will always smile to us and of course the world will become a better place for all of us to dwell happily," he said.
The African foremost monarch while wishing all the Christians in Nigeria and across the globe a merry Christmas, also urged religious leaders to always lead by example by not just preaching like Jesus Christ but always acting like Him if their followers should take them seriously.