Buhari Never Said Boko Haram War Is Over – Adesina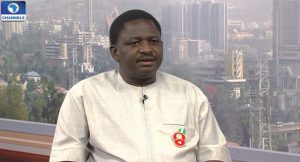 In spite of the huge success recorded by the Nigerian Military in its onslaught against the Boko Haram insurgents, the Presidency believes the war is not yet over.
The spokesman for the President, Mr Femi Adesina, noted that Mr Muhammadu Buhari was misinterpreted by the press.
He said that President Buhari only commended the military when they took over the Sambia forest in Borno State, maintaining that he never pronounced the defeat of the Boko Haram insurgents.
"If you look at the President word-for-word, there is no place you will see him say that (the victory) signposts the defeat of the Boko Haram, no! It's an interpretation by the press.
"What the President did was to congratulate the military for taking over the last camp of the Boko Haram which is called camp zero.
"What that effectively means is that Sambisa forest which was like the last stronghold of the Boko Haram has been effectively taken over by the military," he noted.
Bitter Enders
Mr Adesina, told our Sunrise crew on Monday that the war against the insurgency was asymmetric and not conventional, stressing that such wars do not end for a very long time.
"There will always be bitter enders at any given time. Even as Sambisa forest has been taken over, you will still find some elements who will continue to fight and they will be taken out eventually.
"This kind of war is not one that at a point you will say because Sambisa has been taken over, its over for now, no! It is over when we stop having strikes and attacks," he said with an assurance that the war would be over.