Kogi Govt. Uncovers 18,471 Ghost Workers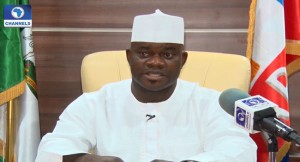 Kogi state government has uncovered 18,471 ghost workers and unintended beneficiaries in the state civil service and pension.
The Staff Review and Complaint Committee Chairman, Yakubu Okala, stated this during the reading of the final screening report in Lokoja the state capital.
He noted that the unintended beneficiaries have gulped over 2.6 billion Naira from the state government every month.
Judges, members of the state legislative arm of government, top government functionaries, staffs of agencies and parastatals, organised labour, APC members and supporters, all attended the official presentation of the final screening report at the glass hall of the government house.
While submitting the report to Governor Bello for implementation, the audience were all amazed as the committee chairman read out their findings.
Mr Okala also noted that his committee discovered quite a number of minors in the state and local government pay rolls, while some were earning double salaries from the state government's pause.
Governor Bello commended the committee for a work well done and promised to implement all the committee's recommendation.
He also promised to engage those who would no longer be included in the state pay roll.
The committee was set up on July 26, 2016 by Governor Yahaya Bello to look into what was described as a shoddy work earlier done by the General Okutimo (Rtd) and Dr. Jerry Agbaji committees.
They had the mandate to come up with a recommendation that would "re-position the state civil service and public service for optimal performance.
"To subject to scrutiny the list of staff that have been adjudged, identified and authenticated by the screening and verification committee.
"To receive complaints from staff and determine the genuineness or otherwise of their complaints to determine and set out criteria for accessing thoroughness among others."