Yahoo Fraud Allegation: Oluwo Explains His Refusal To Appear In Court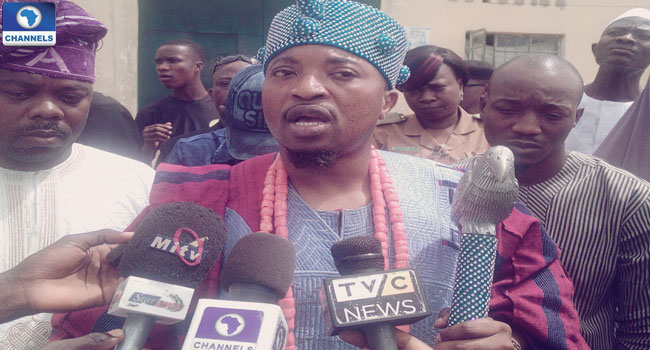 The Oluwo of Iwo, Oba Abdulrasheed Akanbi, has cleared the air on why he refused to appear in court to face litigation instituted against him by Oluwo-Oke of Iwo-Oke, Oba Kadiri Adeoye, on the allegation that he was sponsoring thugs and involved in Yahoo fraud.
At a meeting with one of the leaders of Quadiriyah Islamic Movement of Yoruba land, Mr Muhammed Imran-Adio, at Imoru Compound, Iwo, Osun State, Oba Akanbi described the allegation as a mere threat to intimate the crown.
"The lawsuit was the handiwork of some mischief makers who want to distract my compassionate leadership style and an attempt to get me docked so as to discredit the crown.
"How can I appear in court on defamatory allegations? There are two respondents in the case, Oluwo and State Commissioner of Police.
"The CP has been represented in court several times and I (Oluwo) have also been represented by three royal fathers and qualified layers, so why should the magistrate run after the crown leaving the man in khaki? This is an indication that something is wrong somewhere.
"If they can represent CP, why must they request the physical appearance of a first class ruler? You now insisted on docking Oluwo, maybe you meant another Oluwo not Adewale Abdulrasheed," he said.
The Olowu further claimed that he "was spiritually at the meeting where the plan to ridicule Oluwo was orchestrated. There was never any case, any indictment in the allegations. It was just a paper allegation and baseless binding over".
In a short speech, the Khalifa Qodiriya, Ede, Sheik Abdullahi Olohunlomerue, condemned the litigation against the monarch, saying "people only throw stones to a tree with fruits.
Sheik Olohunlomerue, who prayed for Oluwo to conquer his enemies, described the frontline monarch as a source of happiness for Nigerians through his services to humanity cutting across roads renovation, improved health materials targeted at liberating many generations.
He warned those behind the false allegations against the Oluwo to desist from it as it would not earn them any good thing.
"You call him Yahoo Yahoo and he renovated Iwo-Osogbo road that politicians cannot fix for years. He complemented government's effort. The truth is that Oluwo is great and will never fall.
Earlier, the host, Khalefa Qodiriya, Iwo Land, Sheik Muhammed Imran-Adio, commended Oba Akanbi for his rare progressivism and spirituality just as he described the monarch as a blessing to the entire Yoruba race.
Sheik Adio while eulogising the Oluwo's leadership style said the frontline monarch had brought unprecedented development to the ancient town through his infrastructural and empowerment programme.
The Khalifa Qodiriya, who said he was surprised by the visitation to their compound, appealed to Iwo indigenes, both home and overseas to drum their support for the monarch to pilot the sleepy town to constructive point.