Bayelsa Targets N150m Monthly Revenue From Environmental Sanitation Authority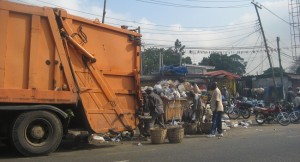 The Bayelsa State Government says it is targeting 150 million Naira monthly revenue from activities of the state environmental sanitation authority.
This is part of efforts to boost its internally generated revenue.
Chairman of the Bayelsa Environmental Sanitation Authority, Robert Enogha, disclosed this in Yenagoa at the inauguration of the state Environmental Authority Enforcement House.
Enogha, who hailed the state government's support for its activities, said the office could make about N150 million monthly.
According to him, there is the need to improve activities of the authority because it would go a long way in boosting the revenue of the state.
"I am appealing for more support, which includes supply of equipment like wheelbarrows, patrol vehicles among others," he said.
The Deputy Governor, Rear Admiral Gboribiogha Jonah (Rtd), who attended the event said the government is poised to achieve a clean and fresh environment.
"Clean environment does a lot of good to the human health, therefore, we cannot neglect nature of cleanliness. We will continue to improve for the betterment of our people.
"On revenue, we are no longer going to allow cash payments of fines and levies to avoid missing of funds, by next year, all tax and levies are going to be visible.
"We are not going to tolerate any form of harassment by officers who are going to be in charge. I urge every officer to step up in their conduct as the state is strategizing to improve its internally generated revenue through this agency", he said.