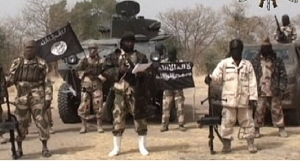 The Nigerian Army has dismissed a video clip released by Boko Haram terrorist group from an undisclosed location on Thursday, showing its purported leader, making spurious claims.
In the video, the man usually identified as Boko Haram leader, Abubakar Shekau, reportedly claimed that reports of the group being crushed by the Nigerian Army during the capture of its Sambisa forest stronghold Camp Zero were untrue.
He also claimed that the group is safe and far away from any location where the Nigerian military can capture its members or defeat it.
"If you indeed crushed us, how can you see me like this? How many times have you killed us in your bogus death?" he asked.
The Acting Director Army Public Relations, Brigadier General Sani Usman, said that effort is ongoing to subject the video for further forensic analysis to determine its authenticity.
He maintained that the Nigerian Army "has captured and occupied the last known stronghold of the terrorists group in the Sambisa forest".
"We would like to reassure the public that this video is nothing but mere terrorists propaganda aimed at creating fear in the mind of people and to remain relevant.
"Therefore, there is no cause for alarm, more so as concerted effort in clearing the vestiges of Boko Haram terrorists wherever they might be hiding is still ongoing.
"Our gallant troops deployed in various parts of the northeast have continued to intensify search for all persons associated with Boko Haram terrorist group with a view to bring them to justice.
"Consequently, the public are hereby enjoined to go about their normal lawful business, remain vigilant and security conscious.
"They should also report any suspicious person or group of persons to security agencies."
President Buhari, had in his Christmas message to Nigerians, announced Boko Haram's "final crushing" in Sambisa forest.
President Buhari said the Chief of Army Staff, Tukur Buratai, informed him that the last camp fell at about 1:35 p.m on Friday, December 23.