Niger State Targets More Revenue With Gurara Waterfalls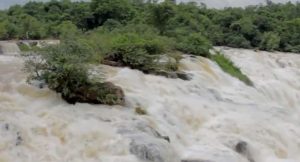 The Niger State government is desperately in search of investors to partner with in developing the Gurara Waterfalls Site to a World class standard.
The plan was announced by the state's Commissioner for Information, Culture and Tourism, Honourable Jonathan Vatsa, at the maiden edition of the Christmas Carnival; first of its kind, organised by the Niger State Government in partnership with the ministry of information, culture and tourism.
Over the years, none of the different administrations has been able to put Gurara Waterfalls, one of the country's greatest tourist attraction, to an admirable condition to stand the image of the tour site, as such waterfalls had done all over Africa and the world in general.
At the Gurara site, the Commissioner attributed the delay in the facelift of the site to the rise in dollar exchange.
He said, with the current rise in dollar against Naira, investors would spend more in the execution of the project.
Mr Vatsa prayed to God for a great and fast miracle before January 2017 on the exchange rate, believing it will help the state government in wooing more investors into the state, not only for the Gurara project, but for many more projects of the government.
He was confident that with the backing of the governor, the best is yet to be seen, as the government, according to him, is planning improvements and better programme in the coming year.
The Permanent Secretary of the Ministry of Information, Culture and Tourism was full of praise for the governor of the state, Dr. Abubakar Bello, for his continuous support to the Christian community.
Although the Christmas Carnival is linked to the celebration of the Christmas, a large number of the Muslim community turned out for the Carnival, a development that the Permanent Secretary said was a sign of the spirit of oneness.
The programme witnessed entertainment from the state cultural group – Gwape, the Gurara Traditional Group, the Boys Brigade band and the ECWA gospel band.
Guests were also treated to lots of food and drinks to their satisfaction.