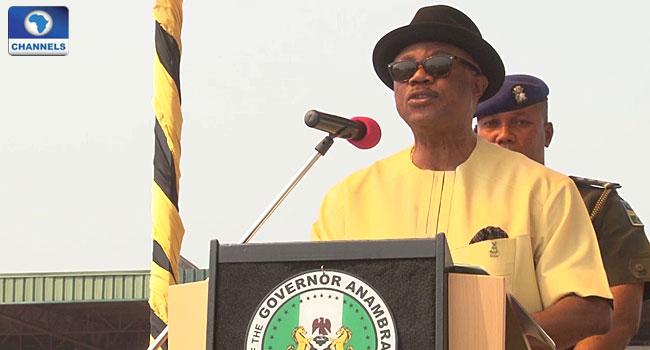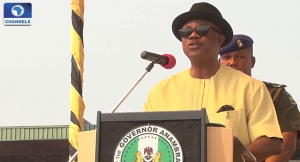 The Anambra state Governor, Willie Obiano, has assured state indigenes that the 2016 recession will never spill into the New Year as various mechanisms have been set in motion to completely reduce its impact on the people.
Obiano made the declaration in his New Year message to people of Anambra state, where he also stated that 2017 will be filled with prosperity in all sectors of the economy especially agriculture as his administration was poised to making the difference economically.
He maintained that as soon as the 2017 budget was passed, the 181 communities in the state would benefit in the second round of the 20 million Naira per community choose your project initiative.
Furthermore, he assured them of more infrastructural development and influx of investors, as the state is ranked number one in security with a strong enabling environment for business and trade to thrive.
The governor concluded that in Agriculture, Anambra state would break new bounds even with the size of its budget multiplying and the Central Bank of Nigeria increasing its support to Anambra farmers from 1.5 billion to three billion Naira.
He then urged all to remain confident and proud of the state as both the government and the people were all doing well.
"The first is to thank God for making us see the end of 2016.
"2016 was a difficult year but we were able to prove that when the going gets tough, the tough will keep going.
"That is exactly what we did in 2016. I want to reassure the people of Anambra state that the recession will disappear in 2017 in Anambra state because of so many things we have done.
Disclosing some of the special packages set to take effect, he said: "We have removed taxes for the less privileged.
"We have energized each of the 181 communities with the sum of twenty million Naira for whatever thing they want to do. Again that is a way of fighting recession, pushing in a lot of resources into the system.
"In 2017 as soon as my budget is approved and during my third year in office anniversary speech, I will also give additional twenty million Naira to each of the communities and again, that will be pumping liquidity into the system and that will energize what we are doing.
"In the budget that the House is about to approve in Anambra state, we multiplied five times what we did in agriculture in budget size that we are going to do in 2017."
Stressing the resultant effect on the sector, Obiano said: "That means farmers in Anambra in 2017 are in for a bumper period because we are going to mobilize them with improved seedlings like we have done for two years plus now, including improved cassava cuttings.
The governor explained that because Anambra is the smallest state, "What is important to me in Agriculture is the yield per hectare, not what one is growing and we are doing very well in yield per hectare in rice, cassava, maize and what have you.
"I'm happy that many Anambra people are heeding the call to come back home and invest and they are investing in agriculture.
"So I want the people of Anambra state to be rest assured that the word 'recession' is a forgone story in Anambra state 2017.
"We are going to grow from strength to strength and we are doing well. 2017 will be one of the best years for the people of Anambra state by the grace of God and we will continue in giant strides in what we are doing in infrastructure, in agriculture, in trade and commerce, and in Oil and Gas.
"We are already doing very well in my enablers, the twelve enablers in education, in health, in environment, in youth's empowerment and entrepreneurship.
While expressing delighted over being the silver jubilee governor, he urged the citizens to be proud and walk tall because of the state's achievements.