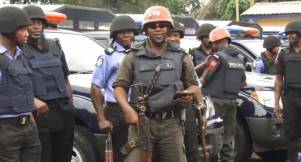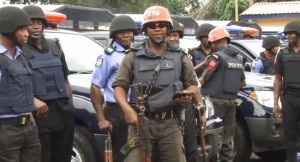 The Delta State Police Command has recovered guns said to have been snatched by Niger Delta militants from officials of the Nigerian Immigration Service.
The two automatic weapons were reported to have been seized from the officials on routine patrol in the creeks of the Niger Delta region to check the influx of illegal aliens to Nigeria through the waterways.
There was a short ceremony put together by the Delta State Police Command to put on record that two M3 rifles snatched from a marine crew of the Nigerian Immigration Service in the Creeks of the Niger Delta on December 10, 2016 have been recovered.
The weapons were handed over by the traditional ruler His Royal Majesty, Couple Orominor, the Pere of Ogbe-Ijaw Kingdom to the Delta State Commissioner of Police, Zanna Ibrahim.
The Ijaw monarch called for a better synergy between security agencies, government and the community for effective dissemination of information that would help in reducing crime in the Niger Delta Region
"Arms were seized by unknown persons within my domain and I swung into action in getting information on how to recover the arms. Government should do its part in ensuring that there is no hiding place for criminals, as most of them take advantage of the bushes to perpetrate their evil intentions," he said
While stressing the importance of partnership, Mr Ibrahim pointed out that trust was the only way for effective community policing, adding that the two rifles were recovered through the combined efforts of some policemen and Ogbe-Ijaw community.
The Inspector General of Police, Mr Ibrahim Idris, have always advocated community partnership, believing that the police could not do it alone.
"You have to partner with all security stakeholders and traditional rulers to build trust and confidence," Mr Idris had said.
It was reported that the immigration officials the guns were assigned to were abducted and held hostage for some days before they were released by their abductors
Since then, the missing weapons have become a source of concern for the security agencies.
There is also an appeal to the Niger Delta Militants and other youths to embrace peace which only dialogue being