Army Intervenes To Restore Order In Southern Kaduna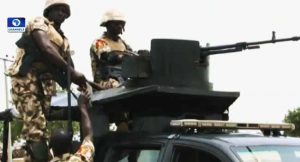 As part of the measures aimed at restoring law and order in Southern Kaduna, the Nigerian Army says it plans to site a military establishment in the area for quick response.
The Director Army Public Relations, Brigadier-General Sani Usman said this, adding that the Army is working with other security agencies as well as the civilian population to restore peace and promote tolerance in the area.
"I want to inform you that the Nigerian Army is fully deployed in the southern part of Kaduna state, and just yesterday we further reinforced that.
"And we have gone beyond that; we have also embarked on civil military activities and we are working hand-in-gloves, with other security agencies, particularly the Nigerian Police, Department of State Services and other military, paramilitary agencies deployed, as well as community and traditional and religious leaders.
"Be assured that the Nigerian Army is fully on ground in the southern oart of Kaduna state."
He said that with the siting of a military establishment, the Army would be better equipped to avert any form of bloodshed in the area.