Nasarawa Agency Decries Rate Of Streetlight Vandalism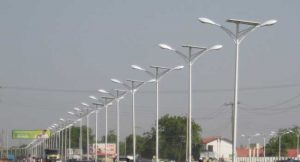 The Nasarawa Urban Development Board has decried the spate of vandalism of streetlights in Lafia, the Nasarawa state capital.
The General Manager, Engineering of the board, Mr Enga Ezekiel made the condemnation while in audience with journalists in Lafia.
This act is evident along Lafia-Mararraba round about, Makurdi road, Lafia where most of the streetlights installed have been vandalised.
Mr Ezekiel attributed the act to the attitude of some people who do not take government property as their own.
He noted that such negative acts have resulted to an increase in road accidents, crime rate and other social vices.
He therefore appealed to such individuals to have a change of attitude.
"It is one thing for government to provide a service and it is another thing for the people to embrace the service. Take a look at where there are no streetlights in the night, all social activities will be at a standstill, security too will be challenged.
"We urge the people of Lafia to take such services as their own personal property and they should ensure their maintenance and sustenance" he said.
He further said that the board has taken note of the ugly development and stressed that innovations have been put in place where state of the art streetlights will be provided making it difficult to be vandalised.
He added that a proposal to that effect has since been submitted to Governor Tanko Almakura for approval.